Her first major film appearance was in
Stage Door
(1937), a film which was considered a flop when it opened, yet seems to be a bigger hit with each passing year; by the time she'd sashayed across the set in
Mildred Pierce
in 1945 her persona had been perfected*...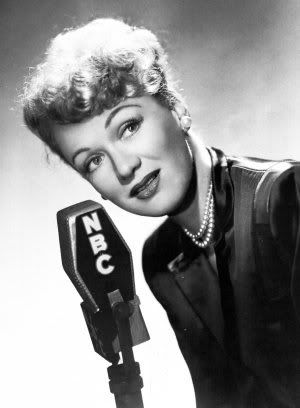 Yet Eve Arden's was a life nearly done in by insecurity. She seems to have suffered under the delusion that she wasn't beautiful, which notion is belied by her photographs. Fortunately, her supposed handicap allowed her to develop a sharp wit and a sardonic tone which is far more interesting than beauty anyway.
That sense of humour found its ideal showcase throughout the run (both on radio and TV) of
Our Miss Brooks,
which was on radio from 1948-1957 and was one of the first hit shows at the dawn of television, running from 1952-6. In the show, Arden played that greatest of creatures, a high school English teacher, of the kind many a gay boy once dreamt of having - or maybe that was just me. At the fictional Madison High School she tangled with Principal Osgood Conklin, played by fellow TV legend
Gale Gordon
, and swooned over biology teacher Philip Boynton (played on radio - and what a waste
that
was - by uber-hunky
Jeff Chandler
, who went on to be a movie star, then later by
Robert Rockwell
).
In her later years, Our Miss Arden got a promotion, becoming principal of the famed Rydell High in the movies
Grease
and
Grease 2
; born in April 1908, Eve Arden died on this day in 1990, aged 82.
*Both films have pride of place in the collection of the Pop Culture Institute, naturally.
*
share on:
facebook