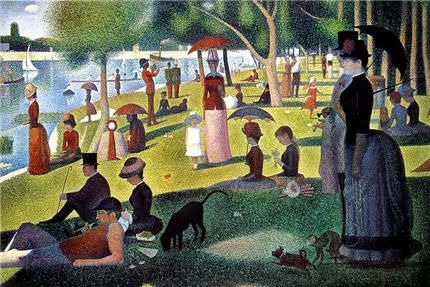 Sunday Afternoon on the Island of La Grande Jatte
is the masterwork of French painter
Georges Seurat
, born in Paris on this day in 1859.
Seurat's technique is known as
Pointillism
, in which millions of individual dots of primary colour are painstakingly placed upon a canvas; the human eye then registers these dots of red-yellow-blue as an array of secondary and tertiary colours. It took Seurat two years (1884-6) to completely cover the enormous 2m x 3m surface with tiny dots; today, the
London Drugs
photo printer can do much the same thing in about 45 seconds.
Art is illumination; yet for the variety of social mores on display in his most famous creation, it was the idea of it that profoundly changed the way we look at our world. Every photograph, television, or film image you or I have ever seen is made up of tiny dots, as is your monitor screen. Seurat didn't just paint a picture, he opened everybody's eyes.
Seurat's vision became
Stephen Sondheim
and
James Lapine
's in July 1983 when
Sunday in the Park with George
opened
off-Broadway
at
Playwrights Horizons
, starring
Mandy Patinkin
and
Bernadette Peters
; the show then opened on Broadway at the
Booth Theatre
in May 1984, where it ran for 604 performances.
The play attempts to insert the artist into his work, only to discover that he's already there, in every little dot; for its tender insights into the creative process it became only the sixth musical to be awarded the
Pulitzer Prize for Drama
.
As for the painting... It's one of the stars in the collection of the
Art Institute of Chicago
, and was featured in a memorable scene in the film
Ferris Bueller's Day Off
.
*
share on:
facebook