Maria Callas may be the first female opera singer whose personal life and travails in the gossip columns of the world were in danger of overshadowing her accomplishments onstage; mainly due to her involvement with
Aristotle Onassis
, she was drawn into conflict (at least in the public imagination) with the world's most famous widow,
Jacqueline Kennedy
.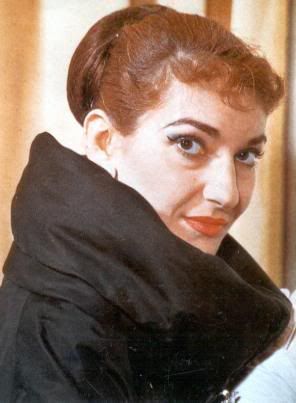 Although she does have a legitimate claim to having been the pre-eminent diva - especially given her tempestuous rivalry with
Renata Tebaldi
- in terms of sheer ability Maria Callas was far from the greatest soprano. What Callas possessed in greatest abundance was a prevailing spirit; she was probably the finest actress the opera had ever seen, which meant that if she failed to hit a note, the audience was more than willing to overlook this shortcoming in favour of an appreciation for her performance as a whole.
Once a full-figured woman, in the mid-1950s Callas embarked upon a diet which dramatically reduced her weight, and which may have hastened the decline of her voice as well; the tension between the singer and the actress was always present in Callas, and in this case the actress won out...
Born in New York City to Greek parents on this day in 1923, Callas returned to Athens for her musical education at the
Greek National Conservatoire
, and got her start appearing in secondary roles at the
Greek National Opera
. Early on she showed an adept ability to perform everything from the highest
soprano
,
coloratura
,
bel canto
,
contralto
, and even allowed her to sing into the male range of
tenor
and high
baritone
.
Callas' voice remains a controversial instrument; while essentially unpretty, it is nevertheless a distinct voice, distinctiveness not being a trait which many singers consider important regardless of their
metier
. Most people consider her a
mezzo-soprano
, as that is her natural register, while others, myself included, feel that she is simply beyond categorization, as befits the woman known as La Divina.
Maria Callas was immortalized in the theatre by
Terrence McNally
's 1995 play
Master Class
, which was based on teaching she did at
Juilliard
in 1971-2; McNally had also based his earlier 1989 play
The Lisbon Traviata
around her life, as did
Ethan Mordden
, when writing his 1998 novel
The Venice Adriana
.
Maria Callas gave her final performance in Japan in November 1974; she died in September 1977 at the age of 53.
*
share on:
facebook