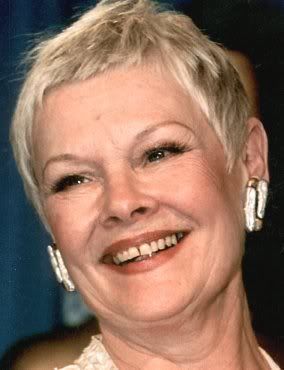 I first became aware of her when the sitcom she made,
As Time Goes By
, began appearing on our local PBS affiliate; alongside her old friend
Geoffrey Palmer
- himself a Britcom stalwart - Judi Dench added a kind of gravitas to the proceedings that, if anything, made the show funnier.
Then came
Mrs. Brown
(1997), a little movie about a little woman that plays a huge part in bringing the character of the reclusive
Queen Victoria
to light; together with Palmer,
Antony Sher
(a revelation as
Benjamin Disraeli
) and
Billy Connolly
, the film portrays the creation of an imperial matriarchy that saved the British throne at a time of crisis.
At an age (a radiant 76) when most people are slowing down to enjoy their dotage, Dame Judi Dench appears to be full steam ahead, never making a misstep in the choices of roles - whether onstage or onscreen:
Tea with Mussolini
(1999),
Chocolat
(2000),
The Shipping News
(2001),
Mrs Henderson Presents
(2005),
Notes on a Scandal
(2006)...
She just keeps getting better and better, which makes celebrating her birthday a no-brainer for the
Pop Culture Institute
!
*
share on:
facebook