In another life Masako Owada could have been a diplomat, as she was before her marriage, and as her father
Hisashi Owada
is; no doubt in her next life - as Empress of Japan - she will not only be among that country's foremost ambassadors but a superlative one at that, owing to her background. If, that is, she can get the Imperial Household Agency to stop hectoring her over her failure to produce a male heir - as if bullying someone were any good way to get what you want!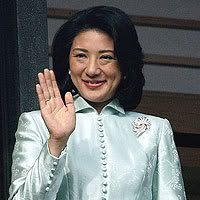 Born on this day in 1963, Crown Princess Masako - bright, beautiful, beloved - has instead turned into something of a spectre within Japan's
Royal Family
, seldom venturing out on public duties, nursing the wounds that result from the particular misogynies of royal life. For a woman as worldly as Her Imperial Highness, the paternalism of Japanese society - especially in its upper echelon - has proven especially hurtful.
Not that she didn't expect it; stories abound about how many times she refused Crown Prince
Naruhito
's proposal and (setting aside all romantic notions about his persistence during their courtship) it's a darn good thing he's stood by her as resolutely through her trials as he has. Even more so than with most married couples, her problems really are his problems.
*
share on:
facebook