Born on this day in 1954 in the Scottish city of Aberdeen, Annie Lennox is a classically trained musician with an intuitive zeitgeist-ometer that's been working overtime since 1981, when
Eurythmics
' first album,
In the Garden
, was released...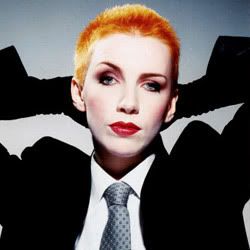 With more soul in her break than most singers have in their whole voice, Lennox's honeyed contralto slunk, shrieked, and otherwise basically blasted through seven albums, including some of the greatest pop music ever recorded:


Sweet Dreams (Are Made of This) (1983), Touch (1983), 1984 (For the Love of Big Brother) (1984), Be Yourself Tonight (1985), Revenge (1986), Savage (1987), and We Too Are One (1989)
.
It was her 1992 debut solo
album
Diva
, though, that made Lennox the durable icon she is today; 1995's
Medusa
deftly dodged the
sophomore slump
with a
collection
of material which aren't merely cover versions but instead re-imaginings, simultaneously demonstrating the sheer elasticity of pop music as well as her distinctive approach to it. In 1999 she
reunited
with
Dave Stewart
to record
Peace
; 2003 saw the
release
of
Bare
, another solo effort which is uber-acoustic, like a lullaby for our collective jangled nerves. 2007's
epic
Songs of Mass Destruction
continued to demonstrate both the growth and maturity of Lennox's gift.
Already the owner of much coveted music industry hardware for both her group and solo projects, in 2004 Lennox was awarded 'the granddaddy of all chachkes' when she won an Oscar for her song
Into the West
, from
The Lord of the Rings: The Return of the King.

*
share on:
facebook