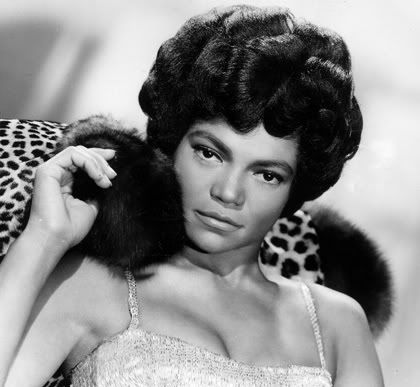 Eartha Kitt - that seemingly ageless paragon of feline-esque femininity whose fame was mainly built by playing
Catwoman
on the 1960s TV-campfest
Batman
- died on this day in 2008; she was 81.
Acclaimed for her sultry delivery of songs such as
C'est si bon
,
I Want To Be Evil
,
Just An Old-Fashioned Girl
, the Christmas classic
Santa Baby
, and the
dance floor scorcher
Where Is My Man
, Kitt first appeared in the 1948 film
Casbah
as part of the
Katherine Dunham Company
; she got her first break, though, playing
Helen of Troy
in Orson Welles'
Dr. Faustus.
As excited as Hollywood was to see her, movie moguls have never been good at knowing what to do with someone unique, and so her movie career never really took off like it might have done if she'd been more generic.
Kitt was principally a cabaret singer, albeit one who combined immense stage presence with a knowing delivery of winking lyrics... In real life, however, she wasn't known for hiding behind euphemism; one of the first big stars to oppose the Vietnam War, following inflammatory comments she made at the Johnson White House - the rumour is she made the First Lady cry - Kitt's career was effectively side-lined to Europe for the better part of the next decade.
In later years, as nightclub stages became too small to contain her charisma, Kitt began appearing in Broadway musicals such as
The Wild Party
,
Cinderella
, and
Nine
; she also found use for her voice in such animated features as
The Emperor's New Groove
and
Kronk's New Groove,
as well as their TV adaptation
The Emperor's New School
. Her valiant struggle with colon cancer included working in the cabarets of New York City up until just a few months before her death; she was survived by her daughter Kitt Revson Shapiro - who was at her side when she died - as well as four grandchildren.
*
share on:
facebook