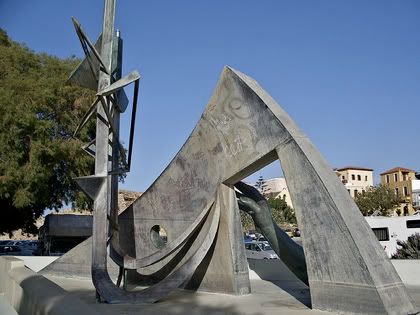 [

The Monument of the Hand

was erected in

the Cretan prefecture of

Chania

to remember those who died when the car ferry SS

Heraklion

sank off Falkonera

en route

from the port of Souda to Piraeus near Athens.]

1609
- The reading room at the
Biblioteca Ambrosiana
opened its doors in Milan; after
Oxford University
's
Bodleian Library
- which first opened its doors in
November 1602
- it was the second public library in Europe.
1660
-
Margaret Hughes
became the first actress to appear on an English public stage when she assayed the role of
Desdemona
in a production of Shakespeare's play
Othello
by
Thomas Killigrew
's new
King's Company
at their theatre,
Gibbon's Tennis Court
, in London's
Vere Street
.
1854
- Pope
Pius IX
proclaimed the Roman Catholic dogma of
Immaculate Conception
, which holds that
the
Virgin Mary
was born free of
original sin
.
1869
-
Timothy Eaton
founded the
T. Eaton Co. Limited
at 178 Yonge Street in Toronto, which would eventually run the tony Eaton's department store chain throughout Canada before his heirs ran it into the ground in August 1999.
1886
- The
American Federation of Labor
was established in Columbus, Ohio.
1889
- The
Royal Netherlands Football Association
was founded.
1904
- Denmark's
Konservativ Ungdom
(Young Conservatives) was founded by Carl F. Herman von Rosen; still in existence today, not only is it that country's oldest political youth organization it's believed to be one of the oldest in the world.
1907
- King
Gustaf V
acceded to the Swedish throne following the death of his father,
Oscar II
.
1914
- Near the beginning of
World War I
the German
Kaiserliche Marine
under the command of Admiral
Graf
Maximilian von Spee
was engaged by Britain's
Royal Navy
under
Doveton Sturdee
in the
Battle of the Falkland Islands
.
1941
- The US Congress declared war on the
Empire of Japan
following the latter's
bombing of Pearl Harbor
the previous day.
1953
-
Dwight D. Eisenhower
gave his
Atoms for Peace
speech at the
UN General Assembly
.
1966
- The Greek ship
SS Heraklion
sank during a storm in the Aegean Sea, killing over 200.
1974
- A
plebiscite
in Greece abolished that country's
monarchy
for the second and final time since it had been established in 1832.
1982
- Activist
Norman Mayer
threatened to blow up the
Washington Monument
, before being killed by
United States Park Police
; future
White House Press Secretary
George Stephanopoulos
- then an intern at the nearby
Carnegie Endowment for International Peace
- made his first appearance on
Nightline
that evening to discuss the incident.
1987
- Melbourne was rocked by
news
of the
Queen Street Massacre
, a shooting spree by
Frank Vitkovic
which killed 8 and injured five - but not Con Margelis, the one he was gunning for - at the
Queen Street
offices of the
Australia Post
; after finally being disarmed by Frank Carmody, Vitkovic jumped eleven stories to his death. The
involvement
of
Australia's Church of Scientology
in this incident has never been satisfactorily investigated...
1993
- The
North American Free Trade Agreement
(NAFTA) was signed into law by US President
Bill Clinton
.
1995
-
Philip Lawrence
, headmaster of
St. George's Roman Catholic School
in North London's
Maida Vale
district, was
murdered
by
Learco Chindamo
of the mostly Filipino local street gang
Wo Shing Wo
; Lawrence had come to the aid of one of his pupils, William Njoh, who was seriously injured in the attack.
2004
- Darrell Abbott - known professionally as
Dimebag Darrell
, lead singer and founding member of such heavy metal stalwarts
Pantera
and
Damageplan
- was shot and killed by deranged fan
Nathan Gale
on stage at Columbus, Ohio's
Alrosa Villa
while performing with Damageplan. The band's drum technician,
John 'Kat' Brooks
, and tour manager, Chris Paluska, were injured in the fray, while their head of security, Jeff 'Mayhem' Thompson, Alrosa Villa employee Erin Halk, and audience member Nathan Bray (who'd been performing CPR on Abbott) were all killed; as for the shooter, he was handily despatched by Officer
James D. Niggemeyer
(
shown, at right
). The entire story is told in
Chris Armold
's
2007 book
A Vulgar Display of Power: Courage and Carnage at the Alrosa Villa
.
2008
-
Kirsty Williams
was elected leader of the Welsh
Liberal Democrats
, making her the first female leader of a political party in Wales.
*
share on:
facebook