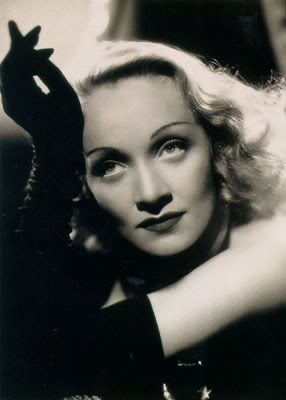 Marlene Dietrich the icon was created entirely out of the whole cloth of herself, an amazing transformation that went way beyond the tweezing of a few eyebrows and a liberal application of peroxide. From a mousy frump who both sang and spoke with a squeak emanated a sylph-like temptress with a voice like wood smoke; that the transformation should have occurred on film is just one of the miracles of the modern age.
By the time the film
The Blue Angel
was being shot at
UFA
in 1930, she was already being molded by the legendary
Josef von Sternberg
; by the time of her appearance later that year in
Morocco
the American Dietrich was complete.
Born on this day in 1902, Dietrich contrasted a worldly persona onscreen with a more homely one in real life; the reality was somewhere between the two.
Maximilian Schell
's
1984 documentary
Marlene
captured her, cranky and embittered, toward the end of her life (she died in May 1992); for a bit of contrast, may the
Pop Culture Institute
recommend
The Glamour Collection
, 5 movies from the era 1930-1947
(
Morocco
/
Blonde Venus
/
The Devil is a Woman
/
The Flame of New Orleans
/
Golden Earrings
) which showcase her at the other end of her life, before the awful toll her celluloid transformation had taken on her psyche began to show.


*



share on:
facebook