One of Hollywood's brightest lights was dimmed on this day in 1993, when Myrna Loy called it a wrap...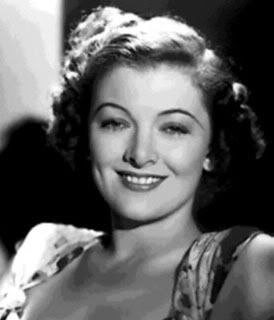 Once considered exotic by Hollywood standards, during the silent era Loy often played vamps, slathered in heavy makeup and slinking around wearing a gold lame kimono; by the early 1930s, though, the studio brains had started letting her be herself onscreen - a wholesome all-American comedienne - at which time her star began to rise.
In 1934 she was cast to play Nora Charles, heroine of
The Thin Man
- from the popular novel of the same name by
Dashiell Hammett
- opposite
William Powell
; in the character she found her perfect balance of sexy and sassy, and in the costar she found the ideal foil. Suddenly, after 80 films, she was an overnight success.
In all, Loy and Powell would star together in a total of 14 films - including six Thin Man movies - making them Hollywood's most durable pair; the time it would take you to watch their onscreen marriage is longer than many of the actual marriages attempted in "real life" by members of the movie colony.
With the outbreak of World War II she acted less, preferring charitable works; what appearances she did make in her later career were memorable, though, such as in
The Best Years of Our Lives
(1946),
The Bachelor and the Bobby-Soxer
(1947), and
Mr. Blandings Builds His Dream House
(1948). Born in
August 1905
, Myrna Loy played her final scene in 1991, when she accepted the
Honorary
Academy
Award
via film clip from her home in New York City.
*
share on:
facebook