His Royal Highness The Prince Albert, Duke of York was never supposed to become King of England; it was only thanks to his feckless older brother
Edward VIII
(and the scandalous private life of his younger brother
Prince George, Duke of Kent
- not to mention the scandalous dullness of his other younger brother
Prince Henry, Duke of Gloucester
) that he was thrust into the job in the first place. It was thanks to his own sense of duty, though, (as aided by the determination of his
Queen
as he was by the four packs of cigarettes he smoked each day) that he was even able to do his level best in helping the British Empire to take down Hitler.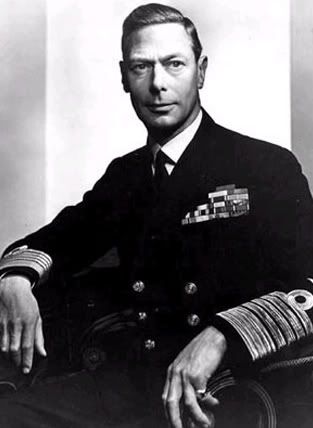 Since the Prince born on this day in 1895 at York Cottage on the
Sandringham Estate
shared his birthday with the 34th anniversary of his
great-grandfather
's death - a day which was still being marked at his
great-grandmother
's court with heavy mourning - he was given the name Albert, although the family always referred to him as Bertie. A shy child, prone to tears, he was treated badly because of his left-handedness, and had knock knees which needed correction with splints; for some reason he developed a stammer early in life. None of it endeared him to his bellicose and demanding
father
, although his equally formidable
mother
was sympathetic in her own utterly undemonstrative way.
In the tried-and-true method of toughening up Princes, Bertie spent his formative years in the military; he even saw action during World War I aboard
HMS Collingwood
in the
Battle of Jutland
... After which he was forced to forego any further toughening up due to a duodenal ulcer - still, he gave it a better try than his own grandson
Prince Edward, Earl of Wessex
, who
quit the Royal Marines
after four months.
In April 1923 the hapless Prince turned his luck around when he finally persuaded Lady Elizabeth Bowes-Lyon to marry him, at
Westminster Abbey
, following a two-year pursuit; as we have seen, the men of the
House of Windsor
are either made or broken by their choice of wives, and the newly created Duke of York was now made in the shade (thanks to an eerie radiance cast by his new Duchess). In April 1926 came the first of his little Princesses,
Elizabeth
, followed in 1930 by
Margaret Rose
; as a husband and father Bertie set a new standard as far as the doting royal male was concerned.
The
Abdication Crisis
thrust Bertie from the back of the
Buckingham Palace
balcony to the front in
December 1936
; no longer the Duke of York he was now
George VI
, and it was through England's darkest hours that his light would come to shine its brightest. He battled his stammer back in order to address his people prior to his coronation in
May 1937
(winning that war before the outbreak of another, even greater one), remained in London throughout
The Blitz
, and let
Churchill
do his thing (winning the war tactically) while he did the King's job of boosting morale. England expected every man to do his duty, and her King certainly kept up his end of the bargain.
It all took its toll, though, and George VI died, too young, in February 1952. He was just 56.
Currently the life of George VI - particularly the struggle he faced with his stammer - is getting the big screen treatment, in
The King's Speech
; as directed by
Tom Hooper
from a script by
David Seidler
, it features genuine heart-throb
Colin Firth
as the undaunted monarch,
Helena Bonham Carter
as his formidable queen, and
Geoffrey Rush
as Australian-born speech therapist
Lionel Logue
amongst an all-star cast.
*
share on:
facebook