When it was announced, in
January 1999
, that the
Queen
's youngest son
Prince Edward
would be marrying Sophie Rhys-Jones the chattering classes momentarily became the snickering classes; Prince Edward, of course, had always been the quiet one, demonstrably ill-suited to military service,
theatrical
even...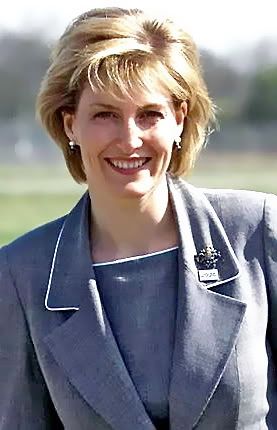 Their
wedding
that June came at a time when the Royal Family was desperately in need of a 'New Diana', or so the tabloids said; the image of courtiers shuddering at the thought of another strong-willed neurotic whirlwind capable of wielding her popularity as a cudgel in their midst is one which amuses me still...
Originally determined to keep her job as co-founder (with Murray Harkin) of RJH Public Relations, in the end it was her own indiscretion (as much as the entrapment of the tabloid journalist
Mazher Mahmood
of
News of the World
) that, in 2002, finally put an end to the myth that such a thing was possible.
In fact, both the Earl and Countess had been drawing increasing ire for the perception that they'd been using their royal status to get ahead in business; the '
fake sheik
' scandal merely proved the tipping point, whereupon they both withdrew from the private sector.
In recent years they have taken on an increasing share of public duties, especially in light of the
Queen Mother
's
March 2002
death and the modest curtailment of duties by the Queen following her 80th birthday in
April 2006
.
Currently the chatelaine of
Bagshot Park
in Surrey, the Countess of Wessex is patron of
Girlguiding UK
and Colonel-in-Chief of the
Queen Alexandra's Royal Army Nursing Corps
among others. Her Royal Highness has had three difficult births to date: the first (in December 2001) was
ectopic
and did not carry to term, the second (in November 2003) resulted in the
birth
of
Lady Louise Windsor
(who arrived a month early, but was otherwise healthy), the third (in December 2007) saw the
arrival
of the Queen's eighth grandchild
James, Viscount Severn
.
*
share on:
facebook