Under normal circumstances, the difficulties I've encountered in bringing this post to you ought to have condemned it to that mental in-box I use called 'Next Year', which I use chiefly for the purpose of procrastination; first, it was a
headache
challenge finding a suitable image - either online or in the voluminous collections of the
Pop Culture Institute
. This despite the fact that from the early 1970s forward Monaco's Princess Caroline was one of the most written about (and photographed) women in the world... Secondly, there was more reading involved than I care to admit in order to clarify the
muddy matter
of why Her Serene Highness is now Her Royal Highness and how she came to be that way.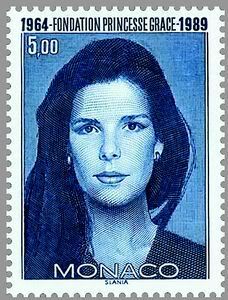 In the end, of course, royalty stories always get more leeway - partly because with them I can aspire to a future rife with privileged sycophancy of which the average brown-noser can only dream, but also because I'm just really interested in royalty. As a writer it helps to be expert in something, so I've decided that in my case it might as well be something that interests me.
The
Grimaldis
, in particular, have always interested me; even after I first heard them speaking in interviews - sounding for all the world like they could be from Cleveland as opposed to Monaco, that fairytale principality on the Mediterranean my regular readers have been learning a lot more about in recent years. Maybe it's the association with Hollywood (via their mother
Grace Kelly
) or maybe it's the fact that, in the English-speaking press, at least, they are relatively obscure.
Nevertheless, today is the birthday of Princess Caroline, eldest daughter of Princess Grace and
Rainier III
, ex-wife of the gigolo
Philippe Junot
, widow of the much-loved
Stefano Casiraghi
, and still the current wife of the legendarily
uncouth
Ernst August V, Prince of Hanover
*. She's also the mother of three dishy children with Casiraghi -
Andrea
,
Charlotte
, and
Pierre
- as well as a daughter, Princess
Alexandra of Hanover
, by the Prince. As the Hereditary Princess of Monaco herself - and therefore Heiress Presumptive, Princess Caroline and her offspring stand to one day inherit the Monegasque throne if the current ruler,
Albert II
, doesn't smarten up and produce at least one legitimate heir**.
*Ah, but for how long...?
**A situation His Serene Highness seems, at long last, ready to deal with; his marriage to South African Charlene Wittstock is scheduled to take place on July 2nd (civil) and July 3rd (religious) 2011.
*
share on:
facebook