Cary Grant was the quintessential movie star: suave, poised, utterly commanding of every scene and shot he was in; for more than thirty years and over the course of dozens of movies - many of which are still fondly remembered and those that aren't just waiting to be rediscovered - he was the pinnacle of male glamour on the American screen.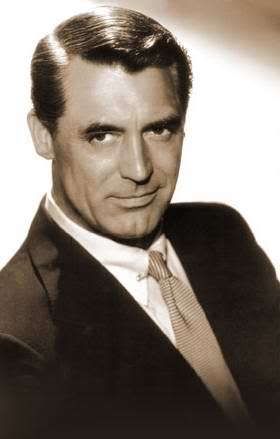 Born on this day in 1904, he was originally a circus performer, walking on stilts for the impresario Bob Pender; he jumped troupe in 1922 when they returned to England, and by 1931 was a sought-after romantic lead (or 'juvenile') on the New York stage.
Having honed his unique persona and voice on the stage, he did what most well-honed stage performers did in those days, and went to Hollywood. Although not his first movie, the one that first brought him attention was 1932's
Blonde Venus
, with
Marlene Dietrich
. His career was given a further boost when he was cast opposite
Mae West
in
She Done Him Wrong
and
I'm No Angel
(both 1933) which at the time were credited as having saved
Paramount Pictures
from bankruptcy.
With that he was off, and nothing - not even the occasional clunky script or chemistry-free costar - could stop him. Thereafter his
resume
reads like a master-class in Hollywood cinema:
Bringing Up Baby
with
Katharine Hepburn
,
His Girl Friday
with
Rosalind Russell
, and
The Awful Truth
with
Irene Dunne
are just three of his great roles and onscreen romances.
Offscreen, of course, the romances didn't always wrap up nicely in the third act; he was married to
Virginia Cherrill
,
Barbara Hutton
,
Betsy Drake
,
Dyan Cannon
, and in turn divorced from all of them. His fifth and final wife Barbara Harris was with him when he died, in November 1986.
*
share on:
facebook