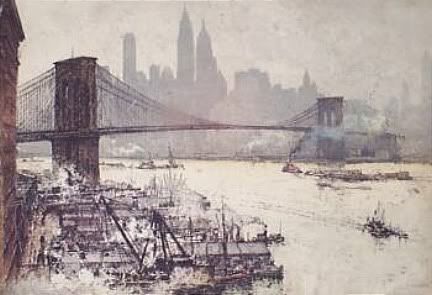 Connecting
Brooklyn
to
Manhattan
over 486.5 m of swirling water where the
East River
meets New York Harbour using the relatively new technology of the suspension bridge was never going to be an easy task, but fortunately when its
construction
began on this day in 1870 it was being handled by the nation's foremost builder of such spans...
The bridge was designed by
John Augustus Roebling
, who was injured during the survey of the site; his foot crushed, he later died of tetanus, and work had to be completed by his son,
Washington Roebling
. In addition to its designer, construction on the bridge claimed 27 lives, and nearly killed his son as well; while constructing the
caissons
, the younger Roebling developed
the bends
, and thereafter his wife
Emily Warren Roebling
acted as his go-between.
Plagued by difficulties throughout its construction, the Brooklyn Bridge was finally opened in May 1883; it is not only still standing, but the iconic structure was designated a
National Historic Landmark
in 1964, a
National Historic Engineering Landmark
in 1983, and was scheduled to receive a $725 million facelift in 2009.
There are two very different books in the collection of the Pop Culture Institute which (naturally) give two very different impressions of the construction of such an important span... One is
The Great Bridge
, by the popular historian
David G McCullough
, which traces the elder Roebling's career from its earliest beginnings to its greatest posthumous triumph; the other is
Brookland
, a novel by
Emily Barton
, which isn't really about the building of the Brooklyn Bridge at all but rather about its unrealized predecessor
Thomas Pope
's
Rainbow Bridge
and yet in an illusory way exclusive to fiction sort of is anyway.
*
share on:
facebook