One of the reasons I began this blog was to draw attention to those obscure figures from history - regardless of their field of endeavour - whose obscurity I consider unfair; I'd like to think that, fifty or a hundred years from now, some uppity know-it-all will do the same for me...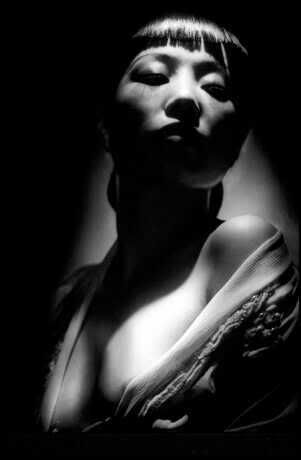 In many ways, Anna May Wong is the ideal candidate for the
Pop Culture Institute
treatment; not only was she the first Asian-American actress of any note in the Hollywood cinema as far back as 1921, but until the 1970s almost the only one as well.
Born in Los Angeles on this day in 1905 (her family having settled in the US in 1855), Wong's first film role was in the
Alla Nazimova
silent
The Red Lantern
(1919). Despite the clout a friendship with such an august presence ought to have given her, Wong struggled. This wasn't due to any lack of parts for exotic temptresses, but rather to
anti-miscegenation laws
in the US; she could have had her choice of parts if only they didn't require her to be romantic which, let's face it, meant that as a romantic leading lady she remained underemployed.
She did act, though, here and there: in
The Toll of the Sea
(1921) opposite
Kenneth Harlan
, in the British silent
Piccadilly
(1929), most famously with
Marlene Dietrich
in
Shanghai Express
(1932), and opposite
George Raft
in
Limehouse Blues
(1934). However, when she was offered the villain's part in
The Good Earth
(1937), and it became obvious she would be the only Asian in the cast, she balked. One of her final film roles was in the camp classic
Impact
(1949).
Despite romantic entanglements with director
Marshall Neilan
and writer
Eric Maschwitz
- who apparently wrote his famous song
These Foolish Things (Remind Me Of You)
about her - she never married; interestingly, another of Hollywood's pioneering Chinese was her cousin, famed cinematographer
James Wong Howe
. (For obvious reasons, he did better at the studios than she did.)
Anna May Wong died in 1961, but has since been given a star on the
Hollywood Walk of Fame
; as well,
Frosted Yellow Willows
- a documentary by Elaine May Woo and narrated by Nancy Kwan - which had its American debut in January 2008, in Los Angeles, and
The Anna May Wong Society
, not to mention two new biographies, have done their part to rescue her from the footnotes of Hollywood history and restore her to her rightful place among the industry's pioneers.
Anna May Wong: A Complete Guide to Her Film, Stage, Radio and Television Work
was written by Philip Leibfried and
Chei Mi Lane
and
Anna May Wong: From Laundryman's Daughter to Hollywood Legend
is by Graham Russell Gao Hodges.
*
share on:
facebook