Blessed be God, at the end of the last year I was in very good health, without any sense of my old pain but upon taking of cold. I lived in Axe yard, having my wife and servant Jane, and no more in family than us three. My wife, after the absence of her terms for seven weeks, gave me hopes of her being with child, but on the last day of the year she hath them again...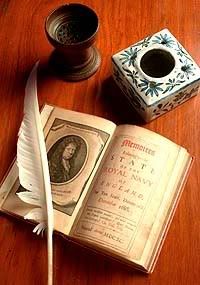 When, on this day in 1660,
Samuel Pepys
of London began keeping a
diary
with those very words, nobody - least of all him - could have predicted the sweep of history he'd end up recording there during the nine-and-a-half years he kept at it.
While his take on the current events of the day - the
Interregnum
and the failure of
Cromwell
's
Protectorate
, the
restoration
of
Charles II
(at which he was present, having accompanied Sir
Edward Montagu
to the place of the King's exile at
Breda
, in the Netherlands), the
Second Dutch War
, the
Great Plague of 1665
, and the following year's
Great Fire of London
- make for an interesting enough read, it's the minutiae of his own life, from his illnesses to his petty squabbles to his lusty embraces, which are most enlightening, rendered as they are by him with great wit and extraordinary empathy.
Pepys protected his musings from prying eyes by keeping them in shorthand, which would take their eventual translator three years to decipher. Although the diary was initially begun for personal reasons, Pepys later rewrote and bound the pages he'd made, as well as indexing them in amongst his rather substantial library (which contained 3,000 volumes at his death, including the diary) as though he expected they would one day be
published
.
For all his modesty, Pepys was as illustrious as his colleagues in the
Royal Society
, men such as Sir
Isaac Newton
and Sir
Christopher Wren
; his friend
John Evelyn
remembered him as 'universally beloved, hospitable, generous, learned in many things'. First a civil servant and later an MP, Samuel Pepys walked amongst some of the most illustrious people of any age as one of their own. For all his erudition, though, Pepys could never have foreseen that one day his old words would be given new life on a thing called the Internet in a thing called a blog, which it is; the link is on the blogroll here at the
Pop Culture Institute
, as well as behind the picture, but I'll include it
here too
.
Pepys - born in February 1633 - abandoned his diary in May 1669; he died in May 1703.

*
share on:
facebook