Ever since the quintessential Chachi - the inimitable
Scott Baio
- first sashayed across the soundstage of
Happy Days
, there's been a soft spot in my brain for cute, tough, little Italian guys; of course, I'd hate to meet an actual one in person, for fear of earning myself a thumping*, but from the convenient distance of a telephoto lens or thanks to the intercession of modern consumer electronics there's nothing with quite the same combination of tough and tender...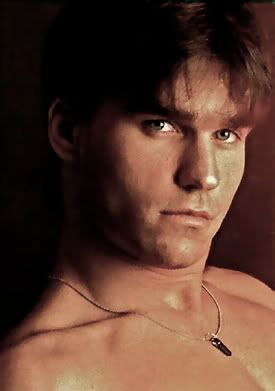 That must have been what first attracted me to Joey Stefano. Yeah, that must have been it. Not the heroic manner with which he entertained
Ryan Idol
's member in 1990's beachfront all-male epic
Idol Eyes
, and certainly not for the electrifying performance he gave in
Chi Chi LaRue
's ground-breaking
More of a Man
...
Of course, porn stars are intended to evoke archetypes, so as to enrichen the otherwise quotidian purpose of the material; in quite the opposite way grimy setting, poor lighting, paper-thin plot, and cheesy music take away from the experience, once the action is got down to the model is free to inhabit the viewer's imagination, which can whisk him unimpeded back through memory, to some glancing encounter with an unobtainable beauty, and evoke something that never was but that needed to be and make it so in some small way. Either that, or he's just a hot guy I like rubbing one out to before overthinking my justification for the whole exhilarating process!
For whatever reason, there was something fascinating about Joey Stefano, and the same cannot be said for all of his costars; honestly, he was eminently watchable, even with his clothes on. Tragedy, of course, plays as great a part in his star quality as the versatility of his performances; born on this day in 1968, his was a short, brutal life which ended with a whimper in
November 1994
, whereas it had been lived with considerable banging.
I've recommended Charles Isherwood's book
Wonder Bread and Ecstasy: The Life and Death of Joey Stefano
to my readers before, but I also believe that it should be read by anyone bent on a career in gay porno. Not that everyone contemplating such a move necessarily came from such a shitty home as he did, raised within a culture of addiction and violence, dogged by the shame that only dogma brings. Still, for an industry whose reputation for eating its young is scarcely ameliorated by its filming of the process, I say the best thing they could do in future is provide their prospectives with the shining example of his worst-case scenario and thereby possibly prevent such a thing from happening again, if only once...
*Or worse, for fear of enjoying said thumping.

*
share on:
facebook