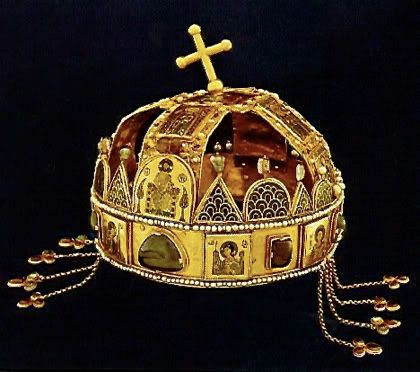 [

Also known as the Holy Crown of Hungary - making it the only crown in the world to bear the attribute of holiness - the Crown of St. Stephen spent most of World War II in

Fort Knox

, and wasn't returned to Hungary until the administration of US President

Jimmy Carter

. After the fall of Communism in 1991, the crown was added to the arms of Hungary as a symbol of the nation's sovereignty, and on New Year's Day 2000 was moved

from the

Hungarian National Museum

to the

Hungarian Parliament Building

along with the rest of that country's ancient coronation regalia.

]
1205
-
Philip of Swabia
became
King of the Romans
.
1449
- Byzantine Emperor
Constantine XI
was crowned at
Mistra
.
1540
- England's King
Henry VIII
married
Anne of Cleves
.
1643
- A cross was erected atop
Mount Royal
by
Paul Chomedey de Maisonneuve
following the subsidence of a flood which had threatened Montreal; the site is still marked by the presence of the
Mount Royal Cross
, placed there in 1924 by the
Société Saint-Jean-Baptiste
.
1690
-
Joseph
, son of
Holy Roman Emperor
Leopold I
, became King of the Romans.
1759
-
George Washington
married
Martha Dandridge Custis
.
1824
- The
Literary and Historical Society of Quebec
was founded in Quebec City by Governor of
British North America
George Ramsay, Earl of Dalhousie
; located at the city's
Morrin College
since 1868, the college has since been taken over by the society and renamed the
Morrin Centre
.
1853
- US President-Elect
Franklin Pierce
, his
wife
, and son Benny were involved in a train wreck on the
Boston and Maine Railroad
near Andover, Massachusetts; while the Pierces received only minor injuries, Benny was crushed to death before their very eyes.
1893
-
Washington National Cathedral
was chartered by Congress; the charter was signed by President
Benjamin Harrison
.
1907
-
Maria Montessori
opened her first school and daycare center for working class children in Rome.
1912
-
New Mexico
became the 47th US state.
1936
- Barbara Hanley became Canada's first female mayor when she got 13 more votes than Robert Streich to become head honcho of the Ontario town of
Webbwood
, west of
Sudbury
.
1941
-
Franklin Delano Roosevelt
delivered his
Four Freedoms Speech
in that year's State of the Union Address. They are: freedom of speech and expression, freedom of every person to worship in his own way, freedom from want, and freedom from fear.
1942
-
Pan American World Airways
'
Pacific Clipper -
with Captain Robert Ford at the helm - arrived at
LaGuardia Field
's
Marine Terminal
in New York City after making the first round-the-world trip by a commercial airplane.
1974
- Canada's
Global Television
network began broadcasting; established by
Al Bruner
and
Peter Hill
, in its early days Global was shown in southern Ontario only - on a six-transmitter relay stretching from Windsor to Ottawa - but went national in August 1997 just in time to become the Canadian equivalent of Fox.
1977
-
EMI
fired
the
Sex Pistols
.
1978
- The
Crown of St. Stephen
was returned to Hungary from the United States, where it was held after World War II.
1994
-
Nancy Kerrigan
was clubbed on the right leg by
Shane Stant
under orders from figure skating rival
Tonya Harding
; although they both went on to compete in the Winter Olympics in
Lillehammer
, Kerrigan won a silver medal, while Harding came fourth.
2005
-
Edgar Ray Killen
was indicted for the
1964 murders
of three civil rights workers:
James Chaney
,
Andrew Goodman
, and
Michael Schwerner
. Killen was later convicted on three counts of manslaughter.
*
share on:
facebook