When he died - on this day in 1946 at the age of only 43 - Countee Cullen was among the foremost black writers in the world; although he said he strove to be a poet first and a black poet second, his work is rife with black imagery (as it would be) and he can reasonably be thought of as a poet who happened to be black.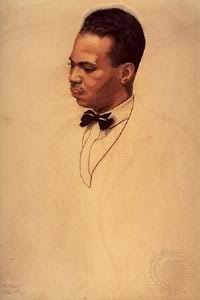 One of the few writers acclaimed during the
Harlem Renaissance
to have outlived the hype, Cullen's childhood is shrouded in mystery. He is now thought to have been born in Louisville, but abandoned by his mother as an infant; he made his way to Harlem, where at the age of fifteen he was adopted by Frederick Ashbury Cullen, pastor of Harlem's Salem Methodist Episcopal Church and co-founder of the
National Urban League
.
Having shown promise as a poet from a young age, Cullen never contemplated any other career; following his graduation from the mostly white DeWitt Clinton High School, he attended
New York University
. As he had in high school, at university he worked for the school publication, joined
Phi Beta Kappa
, and was awarded the Witter Bynner Undergraduate Poetry Prize.
While still an undergraduate Cullen began working for
The Crisis
, under
W. E. B. Du Bois
, who would one day become his father-in-law; he later obtained his Master's degree from Harvard.
In 1928 Cullen married Nina Du Bois, but the marriage broke after just two months when he and the best man went to Europe on his honeymoon, leaving Nina behind. He would later marry Ida Mae Roberson and, despite his affairs with other men, seems to have been more considerate of her feelings. That same year Cullen was named a
Guggenheim Fellow
.
Though his life was short his career while alive was prodigious: he published 7 books of poetry, 3 novels (including 1931's
One Way To Heaven
), and in the last year of his life also wrote a play. His sudden death - of uremia and high blood pressure - was a shock to the literary community.
*
share on:
facebook