In the
1942 film
Now, Voyager
- a perennial favourite of ours here at the
Pop Culture Institute
- suave European Paul Henreid romanced the plain Boston spinster right out of
Bette Davis
and left in her place a soigne
Back Bay
socialite; in the process he committed one of the greatest moments in the American cinema to celluloid. By lighting two cigarettes at the same time and handing one to her, he made a necessarily chaste scene - especially in light of that era's repressive on-screen censorship - undeniably erotic...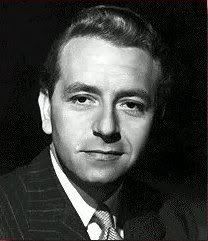 Later that year he played Victor Laszlo, the hero
Ingrid Bergman
would have forsaken for the cad played by
Humphrey Bogart
but - in the end, and due entirely to Bogie's sacrifice - didn't, in
Casablanca
. It was a role with which Henreid was already familiar, having escaped deportation from England to his homeland (and almost certain incarceration) thanks to the intercession of his colleague
Conrad Veidt
.
Few careers in Hollywood have opened with that kind of one-two punch; while none of his subsequent work would be as beloved as these two roles, his success in them afforded Henreid - born in Austria on this day in 1908 - that most priceless of assets: star quality.
Which is not to say that Henreid wasn't admired right up until his death in March 1992; he's one of the few people to have received two stars on the
Hollywood Walk of Fame
, one for film and another for television.
*
share on:
facebook