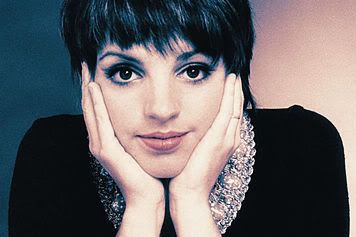 Liza Minnelli is one of the first non-royals to have been famous from the day she was born, on this day in 1946; her mother
Judy Garland
was then (and indeed, still is, at least in the opinion of the
Pop Culture Institute
) possibly the greatest singer-actress in history, and her father
Vincente Minnelli
was an equally esteemed film director. They met on the set of Minnelli's
film
Meet Me in St. Louis
(1944), which was a triumph for both of them.
As Hollywood royalty their greatest triumph, however, was a little black haired bundle of neuroses named Liza, whose abundant neediness was an adjunct of her mother's and whose frantic desire to entertain has endeared her to three generations of gay men, with their equally frantic desire to be entertained. Although her first appearance onscreen was as a toddler in her mother's
film
In the Good Old Summertime
(1949), her career is considered to have begun with the 1963 revival of the Broadway musical
Best Foot Forward
; she won her first Tony Award two years later for
Flora the Red Menace
.
Yet Minnelli's life has been a rollercoaster of tragedy and triumph; her mother died in 1969, when Liza was just 23, and because of the mess her estate was in Liza was forced onto the concert circuit to pay off her debts. Smash concert appearances and great film roles (such as her Oscar-winning turn as Sally Bowles in the
1972 musical
Cabaret
) were offset by bouts with addiction, health woes, and terrible marriages; they say women like to marry men like their father, which Liza did well enough when she married
Peter Allen
, who was a fan of her mother's in the usual mold. In recent years Liza has continued entertaining thanks in part to a recurring role on the instant-classic sitcom
Arrested Development
.
Still, in an industry which eats its young, there is much to be said for survivors, and in that regard Liza is in an elite group, alongside Cher, Bette Midler, and Patti Labelle, with whom she has more in common than career longevity - she has the undying affection and therefore eternal protection of the
Gay Mafia
.
*
share on:
facebook