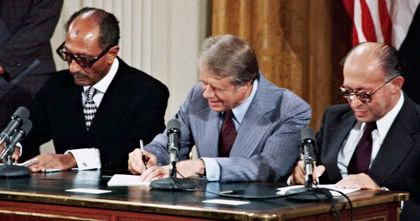 [

You see, kids... Once upon a time there was an American president who cared about peace in the Middle East. I know, I know, you think I'm shitting you, but it's really true! Look - here's a picture to prove it.

]
1026
- Pope
John XIX
crowned
Conrad II
- first King of the
Salian Dynasty
- as
Holy Roman Emperor
.
1130
- Norway's King
Sigurd I
died without a legitimate male heir, precipitating a
civil war
that persisted until 1240; in the meantime he was succeeded by his illegitimate son
Magnus IV
and his half-brother
Harald IV
.
1212
- Portugal's King
Sancho I
died, at which time he was succeeded by his eldest son, who reigned as
Afonso II
.
1552
-
Guru Amar Das
became the third of eleven
Sikh Gurus
, following in the footsteps of
Guru Angad Dev
.
1636
- Holland's
Utrecht University
was founded.
1812
- An earthquake destroyed
Caracas
in the midst of the
Venezuelan War of Independence
.
1839
- The
Henley Royal Regatta
was first proposed by Captain Edmund Gardiner.
1958
- The US Army launched
Explorer 3
to explore the
Van Allen radiation belt
.
1969
- American novelist
John Kennedy Toole
- best remembered today for his epic work
A Confederacy of Dunces
, for which he was posthumously awarded the Pulitzer Prize in 1981 - committed suicide by carbon monoxide poisoning near Biloxi, Mississippi.
1971
-
East Pakistan
declared its independence from Pakistan to form the
People's Republic of Bangladesh
, inciting the
Bangladesh Liberation War
.
1975
- The
Biological Weapons Convention
entered into force.
1976
- Britain's Queen
Elizabeth II
sent out the first royal email - from the
Royal Signals and Radar Establishment
- apparently.
1979 - Following the
Camp David Accords
Anwar al-Sadat
,
Menachem Begin
and
Jimmy Carter
signed the
Israel-Egypt Peace Treaty
in Washington, DC.
1982
- The groundbreaking ceremony for the
Vietnam Veterans Memorial
was held on
Washington, DC's
National Mall
.
1990
- American fashion designer
Halston
- an icon of the 1970s - died in San Francisco of AIDS-related complications following a lifetime of legendary debauchery.
1997
- Thirty-nine bodies were found in a rented mansion in
Rancho Santa Fe, California
, belonging to members of the
Heaven's Gate
cult; the followers of
Marshall Applewhite
and
Bonnie Nettles
had been brainwashed into believing that a spaceship following the
Comet Hale-Bopp
would take their souls with them. Whatever you believe, they were definitely taken for a ride...
1998
- During Algeria's
Oued Bouaicha massacre
52 people were killed with axes and knives, 32 of them babies under the age of 2.
1999
- The so-called
Melissa worm
infected Microsoft word processing and e-mail systems around the world, but not those of Apple.
Suckers...
2005
- The Taiwanese government called on 1 million of its citizens to demonstrate in Taipei, in opposition to the
Anti-Secession Law of the People's Republic of China
; between 200,000 and 300,000 actually attended the walk.
*
share on:
facebook