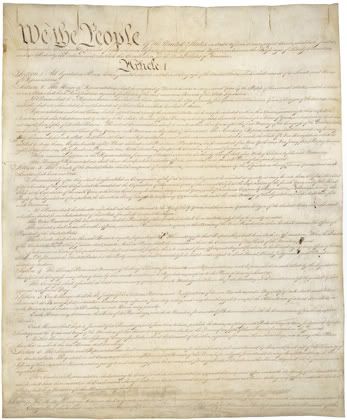 [
Since March 4th was the Inauguration Day of every US President from Washington's second term in 1793 to FDR's first in 1933 - which point I've made about twelve times today by now - and since this is also the day that the fledgling Republic first began operating under its new Constitution in 1789, I felt smug enough to award this edition of
POPnews (US)
with a special subtitle. Despite having done this now two days in a row, the
POPnews
subtitle is actually a rare and prestigious thing; not like being named a Gratuitous Brunette or
People
's Sexiest Man Alive at all, but rather like earning a similar title from
The New Yorker
.
]
1681
- England's King
Charles II
granted a land charter to
William Penn
for the area that would later become
Pennsylvania
.
1776
- During the
American Revolution
a force of 1200 under General
George Washington
'
fortified
'
Dorchester Heights
- wresting control over the port of Boston from Great Britain's General
William Howe
.
1789
- The first
US Congress
met in New York City and declared the new
US Constitution
to be in effect, making this the first day the US government was in operation under the Constitution.
1794
- The
11th Amendment
to the
US Constitution - limiting judicial powers over foreign nationals as well as the rights of individuals to sue states -
was passed by
Congress
.
1797
- In the first ever peaceful transfer of power between elected leaders in modern times,
John Adams
was inaugurated, succeeding George Washington.
1814
- American and
British
troops clashed in Ontario at the
Battle of Longwoods
, between London and Thamesville; the battle is considered an American victory, even though American Captain
Andrew Holmes
withdrew his forces to Detroit following the battle.
1837
- The city of
Chicago
was incorporated.
1845
-
James Knox Polk
was inaugurated as the 11th President.
1861
- The first national flag of the
Confederate States of America
(the
Stars and Bars
) was adopted - on the same day
Abraham Lincol
n
was inaugurated as the 16th President.
1863
- The
Idaho Territory
was created by an Act of Congress and signed into law by President
Abraham Lincoln
, with its first capital at
Lewiston
.
1865
- The
third
(and last) national flag of the Confederate States of America was adopted, shortly before its surrender to the Union.
1925
-
Calvin Coolidge
became the first President to have his inauguration broadcast on radio.
1929
-
Charles Curtis
became the first Native-American
Vice President on the occasion of
Herbert Hoover
's inauguration
; despite this, Curtis' Indian name was not 'Executive Branch'
.
1933
-
Frances Perkins
was appointed
Secretary of Labor
, first female member of the
Cabinet
.
1959
-
Pioneer 4
, launched to detect lunar radiation, missed the Moon and thus detected no such thing, although as far as anyone knows it's still orbiting the sun.
1994
-
Space Shuttle
mission
STS-62
(the 16th for
NASA
's ill-fated
Columbia
) launched into orbit; an otherwise routine mission, it was filmed for the Discovery Channel, rendered all the more poignant after Columbia's
February 2003
disintegration.
1998
- The Supreme Court ruled unanimously in the case of
Oncale v. Sundowner Offshore Services
(with Justice
Clarence Thomas
concurring)
that federal laws banning on-the-job sexual harassment also apply when both parties are the same sex.
2006
- A final contact attempt was made with
Pioneer 10
by the
Deep Space Network
, 34 years and a day after its
March 1972
launch; no response was received.
*
share on:
facebook