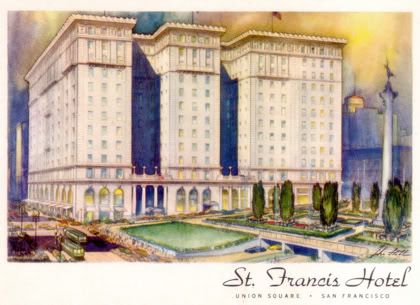 One notable benefit to the virtual vacation is the ability to stay in places I could never normally afford; such is the case with the uber-posh
St. Francis Hotel
, at
Union Square
. Yet for a pop culture junkie like me, where else would I stay? Built just before the
earthquake
it remains the largest hotel in the city, was the site of the scandal that brought down
Roscoe "Fatty" Arbuckle
, and has been featured as a location in numerous films as well.
The hotel also employs a historian, whom I might treat to breakfast upon my arrival - say, in
The Oak Room
- to get the low-down on the high and the mighty who've stayed under their roof. My own room, 1220, is one of those in which the death of
Virginia Rappe
was played out. Ghoulish, maybe, but then it's not like I'm planning to buy a Ouija board and have seance or anything.
Breakfast over, it's still too early to check in, so I leave my luggage with the porter and decide to go out sight-seeing while I wait. Seeing as this is a virtual vacation the weather is lovely and warm. Being an inveterate walker (when not laid up with one of the occasional injuries which plagues me - like the one I have now - since I'm also accident-prone) I'll be doing as much of it as possible on this trip. Also, since it's virtual, there are no hills too steep for me to drag my Jabba-esque bulk up them; still, I've also decided to travel in my virtual body, which resembles that of Jake Gylenhaal. Turns out a virtual vacation is more fun than I'd expected, and I've only been at it an hour.
share on:
facebook