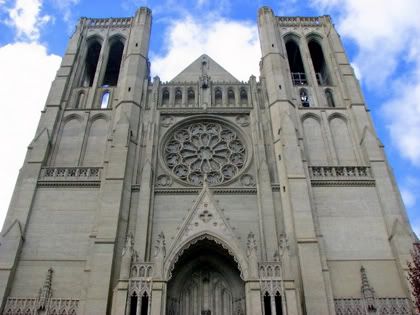 Although it had been my original intention to walk back to the hotel after returning from Alcatraz, all the reverie and fresh air had left me unexpectedly fatigued - which is especially surprising, since it's only a virtual vacation. So I decided to take the
cable car
from Powell & Bay to the
Nob Hill
crossing; after all, what trip to San Francisco (even a virtual one) would be complete without a ride on a cable car? I decided, though, to resist the urge to make myself
Rice-A-Roni
, although by now I'd decided there were certain other "San Francisco treats" I thought I might enjoy while on my sojourn.
At the spot where the Powell-Mason line crosses
California Street
atop Nob Hill I disembarked with the same casual insouciance with which I'd jumped on at
Fisherman's Wharf
, and walked the two blocks to
Grace Cathedral
, yet another of the sites made memorable by
Armistead Maupin
, in this case in the well-named sequel to
Tales of the City
,
More Tales of the City
. Along the way I passed the
Pacific-Union Club
and the
Fairmont
, another of the city's iconic hotels - featured in
Alfred Hitchcock
's 1958
film
Vertigo
.
Although in the novel a cult of Episcopalian cannibals was practicing their predilection on a walkway high above the central aisle, there was no such ghoulish
transubstantiation
on offer today; instead, I walked the
Labyrinth
, looking for the meditative state it promised. I would have stayed to see more - there's an altarpiece in the
AIDS chapel
designed by
Keith Haring
- but as will happen all of a sudden I came on all tired.
Five blocks south on Taylor and two blocks east on Geary and I was back at the
St. Francis Hotel
; passing the famous clock in the lobby I got my key from the desk. The concierge on duty reminded me that my delivery had arrived from earlier, and I slid him a twenty with a weary smile. Upstairs, I barely had time to notice the sumptuousness of the room before falling onto the bed and into a dream as surreal as the day I'd just had.
share on:
facebook