I've always had a love-hate relationship with Barbra Streisand... Impersonating her is one of my favourite pastimes, and whether she's speaking or singing how can you not love that voice? So while as a performer she is nothing less than consummate, she's also a mouthy yenta whose pretensions and general blathering on (usually about politics) often do more harm than good.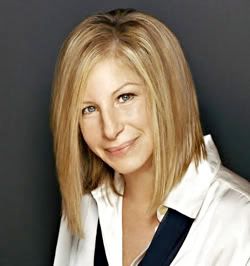 In the olden days, of course, she was a girl singer of a different sort - awkward, even geeky, yet always entirely composed; well-regarded for her skills as a cabaret singer, she soon graduated to television appearances, enlivening the nascent talk show circuit with droll, witty comments and a charming amazement at the glittering new world just beginning to open up to her. She even held her own sharing a stage with such a living legend as
Judy Garland
, with whom she not only made gay history when she
sang the duet
Get Happy
/
Happy Days Are Here Again
on
The Judy Garland Show
in October 1963, but whose performance in that episode was also nominated for an Emmy Award.
Her first major Broadway role - as Miss Marmelstein in the
1962 musical
I Can Get It for You Wholesale
- was a star turn; it not only introduced her to a whole new audience, thanks to an appearance on
The Ed Sullivan Show
, but to her future husband,
Elliot Gould
. That TV appearance also nabbed her a recording contract with Columbia, and a series of performances in Lake Tahoe and Las Vegas, opening for
Liberace
.
She returned to Broadway in 1964, starring as
Fanny Brice
in
Funny Girl
; she fought hard to play the role in the inevitable
movie version
, and not even the fact that she had to share her Oscar with
Katharine Hepburn
that year seemed to dampen her enthusiasm. Throughout the Seventies, Streisand became one of the top movie stars of her generation, while still managing to churn out best-selling albums by the score (more than 60 to date).
I think it was sometime between the release of
The Broadway Album
in 1985 and her performance in
Nuts
(1987) when she first started to bug me; she was, of course, entirely unsuitable in the film, which fact was frequently remarked upon by critics and even greater pundits alike. No doubt this put her on the defensive and no one is at their best in such a circumstance. The last twenty years of her career have been a rollercoaster for me as a fan; a good album or good movie role is usually followed by a pompous or patronizing interview, a charitable act tempered by an ill-considered political pronouncement, and so on.
Still, here I am on the occasion of her 69th birthday prattling on, one of those weird fan people with whom she seems so ill-at-ease...
*
share on:
facebook