Many of the greatest heroes of World War II served in the
French Resistance
; still reeling from the massive losses it suffered during World War I, France had neither the manpower nor the will to fight off the Germans yet again, less than a generation after their previous onslaught. Also, given the improvements in aviation, Paris would have certainly been struck as hard as both London and Berlin - an unthinkable brutality. Nevertheless, despite their capitulation to Nazi rule French opposition to Hitler's onslaught was as vigourous as it was effective...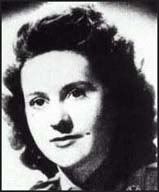 Born on this day in 1912, Odette Sansom was just one of those heroes; married and living in England at the outset of hostilities, she trained under Colonel
Maurice Buckmaster
as part of the
Special Operations Executive
. Operating in the south of France with her supervisor (and future husband)
Peter Churchill
, she supplied him with funds and worked as a radio operator under the alias Lise.
They were betrayed by a double agent named
Hugo Bleicher
in April 1942; tortured by the
Gestapo
at
Fresnes prison
near Paris, she stuck to her cover story that she was married to Peter Churchill and that he was Winston Churchill's nephew (which he was not). Condemned to death in June 1943 she was sent to
Ravensbrück
, but survived the concentration camp and later testified at a war crimes tribunal against the guards there.
In addition to being the only woman to have received Britain's
George Cross
while alive, Sansom was also made an
MBE
and a chevalier in the French
Légion d'honneur
. The 1950
film
Odette
, in which Sansom was played by
Anna Neagle
, dramatized her wartime activities; Sansom died in March 1995, aged 82.
*
share on:
facebook