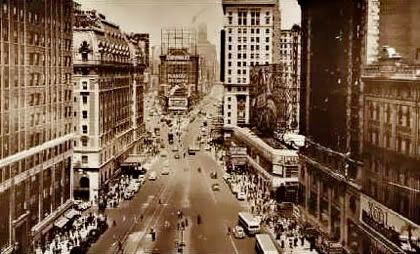 On this day in 1904 Longacre Square in New York City was renamed Times Square by Mayor
George B. McClellan, Jr.
at the behest of
Adolph Ochs
, owner and publisher of
The
New York Times
, which had only recently relocated its offices there. For its profusion of chop houses, gambling dens, and brothels, the area had already earned its reputation as 'Thieves Lair'; the mayor was further persuaded to locate a
subway station
in the basement of the Times Building - now called
One Times Square
- allowing the card sharps and pickpockets a handy means of escape should the need arise. Its northern end was later dubbed
Duffy Square
.
Already home to the
Olympia Theatre
(built by impresario
Oscar Hammerstein I
in 1895 and razed in 1935), the intersection's proximity to subway lines meant that before long it would be not only the transit but the entertainment hub of Manhattan as well. While the year before the corner had been lit by a single gas street lamp, it took just three weeks for the first electrically illuminated sign to be erected, which started something of a precedent. Another precedent was born when, on New Year's Eve 1907, a
ball
was dropped from the roof of One Times Square to the delight of a crowd below, a crowd which seems to grow larger every year. Prior to the advent of cars, buses, and trains the area had housed a number of carriage makers, all of whom progress had swept away by 1913, when Times Square became the terminus of the
Lincoln Highway
, which connected it to
Lincoln Park
in San Francisco for the first time by road. That same year the
Times
itself left its eponymous locale for more spacious premises nearby.
It'd been a long journey from country estate - which it was when George Washington stayed there during the American Revolution - to the urban thoroughfare it had become more than a century later, but if anything it was the next century which saw the greatest changes to the place. From vaudeville stages in the 1920s to movie theatres in the 30s and 40s to grindhouses in the 50s and porno palaces in the 60s and 70s, Times Square's degradation had reached its nadir (or apex, if you're a degradation aficionado) by 1975, when
Martin Scorsese
filmed
Taxi Driver
there.
In relative terms, the transformation of Times Square from a
Tenderloin District
to a
Disney Attraction
(and an
E ticket
at that) has been remarkably rapid. Today, despite what a few grumbling New Yorkers may have to say about how it was so much better in the old days, Times Square remains one of the city's foremost tourist attractions and one of the most concentratedly entertaining parts of one of the most exciting cities in the world.
*
share on:
facebook