It's always struck me as slightly humourous that one of the first women to be known as 'America's Sweetheart' was actually a Canadian; then again, it's happened
often enough
one would think the humour had worn off this particular gag by now, but I guess the classics never lose their zing. That Mary Pickford was one of the first Canadian women to infiltrate American show business - and to do it so thoroughly - is a given; that she was also one of the first film actors to be known to her millions of fans by name* (even though, as with so many others, it was not her birth name they knew her by) not to mention the first woman to sign a million-dollar contract makes her more than a mere actor but the blazer of multiple trails...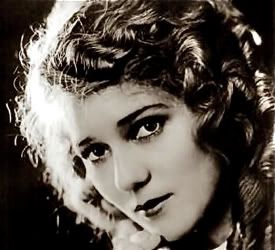 Born on this day in 1892, Pickford's career began even as the 19th Century was ending, when she hit the boards of Toronto's Princess Theatre at the age of only seven, in a stock company production of
The Silver King
. Thereafter she undertook numerous roles with the city's Valentine Company, culminating in the starring role of
Little Eva
in their stage production of
Uncle Tom's Cabin
, the most popular play of the era.
Having well and truly caught the acting bug, Mary Pickford spent six years of the early 20th Century seeing America the hard way - by rail - with her mother,
Charlotte Hennessy
, and two younger siblings
Lottie
and
Jack Pickford
(thespians all) in tow. Finding herself in New York City at the end of that wearying era she gave herself just a year to find a role on Broadway or else return home to Toronto - keeping in mind that she was about 15 when she made this momentous decision. That break came in 1907, when she landed a role in
The Warrens of Virginia
, by
William C. deMille
, whose brother
Cecil B. deMille
was also appearing in the cast. More than a mere costar, DeMille's impending epics as a director would prove as important to her future as the play's producer,
David Belasco
, would be to her present, when he swept away the Gladys Smith of the past and ushered Mary Pickford into the rapt footlights of the New York stage.
From that lucky break - hard won and well-earned as it was - Pickford's career picked up considerable momentum; she was screen-tested by
D. W. Griffith
for the
Biograph Company
in April 1909, and although the role in
Pippa Passes
went to someone else, Griffith was taken with the budding ingenue. Not only was she hired, but after just one day on set she was earning double the salary of the other players - an extraordinary $10 a day against $40 a week. It was during her tenure at Biograph that Mary Pickford would develop her extraordinary range as an actor, which of course would later matter not one whit thanks to the typecasting her public foisted upon her.
In January 1910 she was among the players who travelled out to California with Biograph to investigate the possibility of relocating the nascent film industry there; the strong perpetual sun and considerable distance from the thugs of
Thomas Edison
's
Motion Picture Patents Company
must have made Los Angeles a very attractive prospect to all those involved.
In December of that year Pickford left Biograph for
Carl Laemmle
's
Independent Moving Pictures Company
(which in 1912 would be absorbed into
Universal Pictures
); during this time, Pickford also made films for another company, called Majestic. Unhappy with the lower creative standards she encountered at both of these studios she returned to Biograph - but not for long - leaving them for good in 1912 to return to Broadway for an appearance in
A Good Little Devil
for her former employer, David Belasco.
Tempting as it is to write the longest piece in the history of the
Pop Culture Institute
extolling the talents and accomplishments of this indomitable lady over the next 25 years, though, her story has been better told at length elsewhere, including in
a very thorough work
by
Scott Eyman
. Suffice it to say, the life and career of the canny and talented Mary Pickford - which we leave off here just as it was asserting itself - could fill a blog of their own, although you've neither seen nor heard the last of her here, Dear Reader. Not by a long shot, not even by a close-up...
*The first, of course, being
Florence Lawrence
- who was also Canadian.
*
share on:
facebook