[

Architect Adolf Leonard van Gendt

found his inspiration for the Concertgebouw in Leipzig's Neue Gewandhaus, which was later destroyed during World War II; located in the Amsterdam suburb of Amstelveen - and built on some

2,186 twelve

to thirteen meter (forty to forty-three foot)

long pilings -

the Concertgebouw is considered to have some of the best acoustics in the world.

]
491 CE
- Flavius Anastasius became
Byzantine Emperor
, with the name of
Anastasius I
, following the death of
Zeno
.
1079
-
Stanislaus
, Bishop of Krakow, was executed by order of Poland's Duke
Bolesław II
. Maybe. Then again, it might have been on May 8th. Anyway, for his trouble he would be canonized by Pope
Innocent IV
in September 1253.
1241
- Mongolian warlord and founder of the
Blue Horde
,
Batu Khan
defeated Hungary's
Béla IV
at the
Battle of Muhi
.
1689
-
William III
and
Mary II
were crowned as joint sovereigns of Great Britain; in order to accommodate the unprecedented arrangement special coronation regalia was made, including two pieces now known as the Queen's Orb and Sceptre.
1865
- President
Abraham Lincoln
made his last public speech, at the gates of the
White House
, during which he spoke in favour of black suffrage. In the modestly-sized crowd that day was a certain
John Wilkes Booth
, whose reaction to Lincoln's announcement was to reverberate for generations... 'That is the last speech he will ever give,' he said, to his companion
Lewis Powell
, as they walked away.
1888
- Amsterdam's
Concertgebouw
was inaugurated with a concert in which an orchestra of 120 musicians and a chorus of 500 singers participated, performing works of
Wagner
,
Handel
,
Bach
, and
Beethoven
.
1919
- The
International Labour Organization
was founded.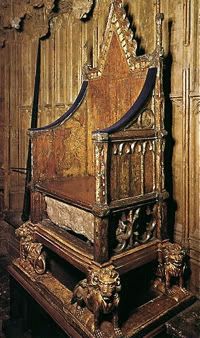 1951
- The
Stone of Scone
- the stone upon which Scottish monarchs were (and British monarchs since
Edward II
in
February 1308
have been) traditionally crowned - was found on the site of the altar of
Arbroath Abbey
; it had been taken from within
St. Edward's Chair
in
Westminster Abbey
in
December 1950
by four Scottish nationalist students (
Ian Hamilton
,
Gavin Vernon
,
Kay Matheson
and
Alan Stuart) who also damaged it in the pilfering, whereupon it was repaired by Glasgow stonemason Robert Gray and returned to London
.
That's the chair there, with the Stone of Scone safely thereunder ensconced; of course, since November 1996 the Stone has actually resided at
Edinburgh Castle
.
* * *

1955
-
Air India
's
Kashmir Princess
crashed as a result of a bomb blast in a failed assassination attempt on
Zhou Enlai
by the
Kuomintang
; while it has always been explained that the Chinese Premier missed the flight due to an emercency appendectomy, recent intelligence indicates he may have been aware of the plot and sacrificed those on board for some reason known only to him. In all sixteen passengers and crew died in the crash - including seven journalists and
Raymond Wong
, the Hong Kong branch director of
Xinhua News Agency
- while three survived.
2007
- A pair of
bombings
in the Algerian capital of Algiers killed 33 people and wounded 222 others.
share on:
facebook