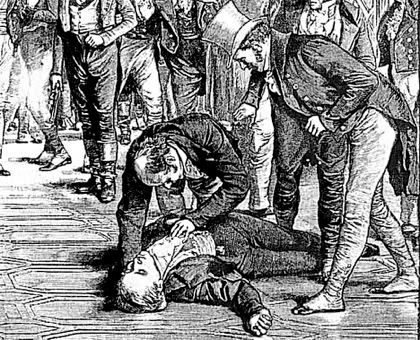 [

1812 has been called the worst year in British history by

BBC History

magazine - not least because it saw the Prime Minister murdered... While readers of the

Daily Mail

may disagree, who gives a shit about them, their reactionary fascism, and shocking lack of historical perspective anyway?

]
1812
- British
Prime Minister
Spencer Perceval
was
assassinated
by
John Bellingham
in the lobby of the
House of Commons
-
the only head of government in that country's history to have met such a fate -
whereupon he was removed to
10 Downing Street
for the five days prior to his burial
. Bellingham shot the Prime Minister in retaliation for financial reverses he'd suffered; a week later he was hanged for his crime, after which his widow and children were provided with a hefty sum raised by public subscription.
1820
- The
HMS

Beagle
was launched at
Woolwich Dockyard
near London; the vessel remained unused for six years, when it was refitted as survey barque in preparation for use by
Charles Darwin
on his scientific voyage.
1867
- Following the
Luxembourg Crisis
that country gained its independence from Holland under the terms of the
Second Treaty of London
.
1934
- A two-day storm removed massive amounts of topsoil from the American
Great Plains
in one of the worst events of the
Dust Bowl
.
1970
-
Henry 'Dickie' Marrow
was murdered by Robert Teel and his sons Roger and Gerald (who had been a childhood friend of Marrow's) in
Oxford, North Carolina
- apparently for speaking to Teel's daughter. When an all-white jury exonerated all three murderers, the town's black community went on a rampage, burning and pillaging many of its buildings. The story is related in
Timothy Tyson
's
book
Blood Done Sign My Name
, which is currently being made into a motion picture by writer-director Jeb Stuart.
1971
- The
Daily Sketch
- then Britain's oldest tabloid (having been founded in 1909 by
Sir Edward Hulton
) -
closed
.
1981
- The musical
Cats
premiered in the
West End
's glittering London; it closed 21 years later to the day in 2002.
1987
-
Klaus Barbie
went on trial in Lyon for war crimes committed during World War II.
1997
-
IBM Deep Blue
, a chess-playing
supercomputer
, defeated
Garry Kasparov
in the
last game
of the rematch, becoming the first computer to beat a world-champion
chess player
.
2002
- Dutch
Princess Margriet
unveiled the Man With Two Hats monument in Ottawa - having
previously
unveiled an identical one in
Apeldoorn
- symbolically linking the two countries, commemorating their relationship throughout World War II.
*
share on:
facebook