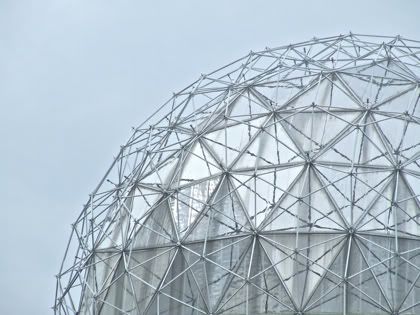 [

A great deal remains of Expo 86 in the Vancouver streetscape -

Canada Place

,

BC Place Stadium

, the

Plaza of Nations

, and the

Expo Line

of the

SkyTrain

, as well as the geodesic dome of

Science World

(shown, above, as photographed by yours truly!) are all iconic both locally and globally. And yet... The city's real estate developers are as famously rapacious as its contruction unions - both hit hard by a recently burst economic bubble over-inflated by their own hot air; combined with a nouveau-riche elite whose contempt for the character of heritage isn't even thinly veiled means none of these things will ever be truly safe from the onslaught of the wrecking ball.]
1194
- England's King
Richard I
granted
Portsmouth
its first
Royal Charter
.
1230
-
William de Braose, 10th Baron Abergavenny
was hanged at
Garth Celyn
by Prince
Llywelyn the Great
of Wales, having been caught
in flagrante delicto
* with Llywelyn's wife
Joan, Lady of Wales
, daughter of England's
King John
. She was put under house arrest for one year, during which time she may have given birth to de Braose's daughter; the low-lying area where His Lordship was executed is now commemorated as
Gwern y Grog
, or 'The Hanging Marsh'.
*Latin for 'Gittin' it ON'...
1568
-
Mary Queen of Scots
escaped from
Loch Leven Castle
, where she had been imprisoned by the
Earl of Morton
; it would prove to be a short-lived liberation, followed by an even longer imprisonment...
1670
- England's King
Charles II
granted a permanent charter to the
Hudson's Bay Company
to open up the fur trade in North America; they remain a major force in Canadian business to this day, despite no longer being Canadian owned after more than 300 years.
1808
- At the beginning of the
Peninsular War
the good people of Madrid rose up in rebellion against their French occupation during the
Dos de Mayo Uprising
; the scene was later immortalized in a
painting
by
Francisco Goya
, entitled
The Second of May 1808
.
1816
-
Léopold of Saxe-Coburg
and
Charlotte Augusta
were wed at
Carlton House
, and lived thereafter at
Claremont
, which was a wedding gift from the nation; as daughter of England's
Prince Regent
, Charlotte was Heiress Presumptive.
1863
- American Civil War hero
Stonewall Jackson
was wounded by friendly fire while returning to camp after reconnoitering for the
Battle of Chancellorsville
; he succumbed to pneumonia 8 days later.
1869
- The
Folies Bergère
opened in Paris.
1885
-
Cree
and
Assiniboine
warriors won the
Battle of Cut Knife
, their largest victory over Canadian forces during the
North-West Rebellion
.
1945
- The Soviet Union announced the
Fall of Berlin
as
Red Army
soldiers
hoisted their flag
over the
Reichstag
; elsewhere German forces began to surrender
en masse
as the Third Reich - once trumpeted as being capable of lasting a thousand years - crumbled after just a dozen.
1946
- At the
Battle of Alcatraz
, San Francisco's
Alcatraz
Federal Prison was taken over by six inmates - Marvin Hubbard,
Joseph Cretzer
,
Mirian Thompson
,
Clarence Carnes
, and
Sam Shockley
led by bank robber
Bernard Coy
- following a failed escape attempt. Two guards and three inmates were killed in the fracas, with 11 guards and one inmate injured over two days of fighting.
1952
- Winging passengers from London to Johannesburg, the
De Havilland Comet 1
- the world's first ever jet airliner - made its maiden voyage,
ushering in
the Jet Age.
1955
-
Tennessee Williams
won the
Pulitzer Prize for Drama
for his play
Cat on a Hot Tin Roof
.
1969
-
RMS Queen Elizabeth 2
of the
Cunard Line
departed Southampton on her maiden voyage to New York City.
1982
- The British nuclear submarine
HMS Conqueror
sank
the Argentine cruiser
ARA General Belgrano
in one of the fiercest days of fighting during the
Falklands War
; in all 321 military and 2 civilian personnel were killed.
1986
- The
1986 World Exposition
- nicknamed Expo 86 - was opened in
Vancouver
by
The Prince of Wales
,
Diana, Princess of Wales
, and Canadian Prime Minister
Brian Mulroney
.
1999
-
Mireya Moscoso
became the first woman to be
elected
President of Panama.
2000
-
Her Royal Highness Princess Margriet
of the Netherlands unveiled the Man With Two Hats monument in
Apeldoorn
; nine days later she would unveil another one in Ottawa, symbolically linking both Holland and Canada for the latter's assistance of the former throughout the Second World War.
2008
-
Cyclone Nargis
made landfall in Burma - which the
Pop Culture Institute
steadfastly refuses to call Myanmar - killing over 130,000 people and leaving millions of people homeless.
*
share on:
facebook