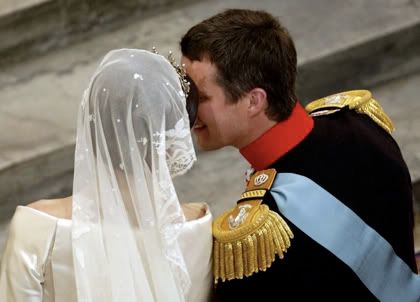 [In a gown designed by Uffe Frank and supported by her two sisters and her best friend, Australian-born Mary Donaldson took part in her own fairytale when she became Denmark's Crown Princess, elevated with a kiss to the exalted position of second lady in the land following a discreet four-year courtship.]
1264
- The
Battle of Lewes
- between England's King
Henry III
and the rebel
Simon de Montfort, 6th Earl of Leicester
- began on the
Sussex Downs
above the village; following de Montfort's routing of the smaller force commanded by Henry's sons Prince Edward (the future
Edward I
) and
Prince Richard, 1st Duke of Cornwall
the King was forced to sign the
Provisions of Oxford
, while both he and Prince Edward were taken hostage (although the Prince later escaped from captivity at
Kenilworth Castle
).
1607
-
Jamestown, Virginia
, was settled as an English colony.
1610
- France's King
Henri IV
was assassinated by
François Ravaillac
, bringing his son
Louis XIII
to the throne.
1643
- Four-year-old
Louis XIV
became King of France upon the death of his father,
Louis XIII
; his reign would last just over 72 years, and remains the longest of any European monarch.
1747
- A British fleet under Admiral
George Anson
defeated a French one commanded by the
Marquis de la Jonquière
at the
first battle of Cape Finisterre
during the
War of the Austrian Succession
.
1804
- The
Lewis and Clark Expedition
departed from
Camp Dubois
to begin their historic journey westward by traveling up the
Missouri River
.
1811
-
Paraguay
gained its independence from Spain, under
José Gaspar Rodríguez de Francia
.
1913
- New York Governor
William Sulzer
approved the charter for the
Rockefeller Foundation
, which began operations with a $100 million donation from
John D. Rockefeller
.
1925
-
Virginia Woolf
's novel
Mrs Dalloway
was published.
1931
- Five people were killed during the
Ådalen shootings
when soldiers opened fire on an unarmed trade union demonstration in Sweden.
1939
-
Lina Medina
became the youngest confirmed mother in medical history at the age of five; she named the baby boy after the doctor who'd delivered him,
Gerardo Lozada
. Medina later married Raúl Jurado, but has repeatedly refused to be interviewed, and has never admitted who the father was; her son Gerardo died in 1979.
1940
-
Rotterdam
was
bombed
by the
Luftwaffe
, four days after the
Nazi invasion
; the Netherlands surrendered the same day, although fighting persisted in the southern province of Zeeland so as to enable the French to retreat and become entrenched.
1943
- The
Australian Hospital Ship Centaur
was torpedoed and sunk near
North Stradbroke Island
off the coast of Queensland by an unknown and unsighted Japanese submarine, killing 332; it took 36 hours to rescue the 64 survivors.
1955
- Eight communist countries in Eastern Europe, including the Soviet Union,
signed
a mutual defense treaty called the
Warsaw Pact
at the
Presidential Palace
in that city.
1991
-
Winnie Mandela
was jailed for her part in the kidnap of 14 year-old
James Seipei
(also known as
Stompie Moeketsi
) who later died of injuries incurred during a savage beating; her sentence was later reduced to a fine on appeal, but her personal appeal (not to mention her marriage to
Nelson Mandela
and revered position as "Mother of the Nation") was permanently lost.
1995
-
Tenzin Gyatso
, the 14th
Dalai Lama
, proclaimed six-year-old
Gedhun Choekyi Nyima
as the eleventh reincarnation of the
Panchen Lama
.
2002
- Ten members of the Darwin-based
Network Against Prohibition
invaded the Legislative Assembly of the Northern Territory of Australia to protest archaic and ineffective anti-drug policies.
2004
-
Frederik, Crown Prince of Denmark
married the Australian-born
Mary Donaldson
at
Copenhagen Cathedral
.
2005
- Pope
Benedict XVI
observed his first beatification, elevating
Blessed Marianne of Molokai
on the road to canonization into
sainthood
.
*
share on:
facebook