Few actors have had the good fortune to have appeared in as wide a variety of show business endeavours as Billie Burke; those who only know her as
Glinda
the
Good Witch of the North
- in the
1939 film
The Wizard of Oz
- have barely scratched the surface of her career, which would end up including theatre on both sides of the Atlantic, vaudeville, movies, radio, and television.
..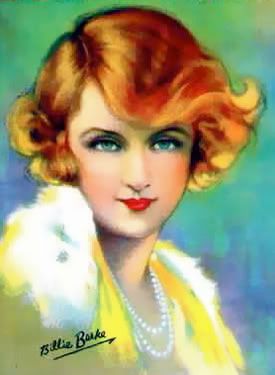 Born into a circus family in August 1884 she'd already toured the US and Europe extensively when she made her stage debut in London's
West End
in 1903; later settling into a life in New York, by 1914 she was one of Broadway's most acclaimed musical comedy talents. That was also the year she met and married the nation's premiere showman
Florenz Ziegfeld
, with whom she had a daughter in 1916; the same year she made her movie debut. She never cared for movies, though, because they didn't give her a chance to speak, so she never more than dabbled in them, returning again and again to the stage.
Financially devastated (along with so many others) by the
Crash of 1929
, she was forced to return to the silver screen; fortunately, by now not only had the silents learned to talk, but they were eagerly in search of unique and distinctive voices to do their talking for them. In every way, Billie Burke was made to order.
Her big screen comeback was in 1932's
A Bill of Divorcement
, directed by
George Cukor
, which also marked the movie debut of
Katharine Hepburn
; during the shooting of the film, her by-now estranged husband Flo died. The following year Burke appeared in
Dinner at Eight
(again by Cukor) whose ensemble cast and solid script make it one of the
Pop Culture Institute
's favourite films of all times. In 1936, the Widow Ziegfeld attained a new level of pop stardom when MGM made a film about her late husband's life;
William Powell
played Ziegfeld, but she was not asked to play herself in the story - that singular honour went to
Myrna Loy
, who did such a good job it's spooky.
The Great Ziegfeld
went on to win the Academy Award for Best Picture.
Unlike many actresses, the older she got the more she was offered; she made eight films in 1935 alone! In 1937 she was a smash opposite
Cary Grant
and
Constance Bennett
in the comedy ghost story
Topper
, in which she played her by-now archetypal featherbrained matron character to the hilt. All before she'd floated into
Munchkinland
in her pink bubble in the role that would ensure her lasting appeal.
In the 1940s she appeared on her own radio sitcom,
The Billie Burke Show
, and in the 1950s starred in a television sitcom entitled
Doc Corkle
; during that time she co-wrote two volumes of memoir with Cameron Van Shippe - 1949's
With a Feather on My Nose
and 1959's
With Powder on My Nose.
Her last film appearance was in 1960, in a
John Ford
Western entitled
Sergeant Rutledge
; by then she was faced with the sad reality that her memory was beginning to fade, and she died from some sort of dementia-related illness on this day in 1970.
*
share on:
facebook