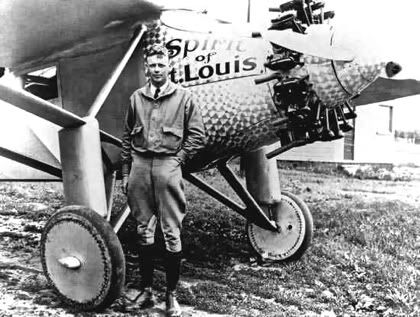 [

Upon his landing at Le Bourget Field near Paris, Charles Lindbergh was greeted by as many as 150,000 spectators, whose cheers and jostling nearly did in the exhausted pilot and his plane; only the quick thinking of the military, on hand for crowd control, managed to rescue Lindbergh from trampling and his now famous plane from being pulled to pieces by souvenir hunters. Alas, it was a far worse Fate that befell

The White Bird

, which had taken off from Le Bourget on May 8th seeking to trump Lindbergh's feat, only from the other direction... Neither the plane nor its pilots,

Charles Nungesser

and

François Coli

, were ever seen again - making them among the dozens of aviators who died trying to win the $25,000

Orteig Prize

.

]
996 CE
- The sixteen-year-old King of Germany
Otto III
was crowned
Holy Roman Emperor
by
Gregory V
, who was not only the first German pope but also His Majesty's cousin - the former Bruno of Carinthia, whose election to the papacy Otto II had engineered.
1502
- The island of
Saint Helena
was discovered by the Portuguese navigator
João da Nova
.
1554
- England's
Derby School
received its royal charter from Queen
Mary I
.
1674
-
John Sobieski
was crowned King of Poland and Grand Duke of Lithuania, two days after his election to the throne by the nobility.
1725
- The
Order of St. Alexander Nevsky
was instituted in Russia by the
empress
Catherine I
; it would later be discontinued in 1917 following the Bolshevik Revolution and then reinstated by the Soviet government in 1942 as the purely military
Order of Alexander Nevsky
.
1758
-
Mary Campbell
, then aged about ten, was abducted from her home in Pennsylvania by members of the
Lenape
Nation during the
French and Indian War
; she was returned, unharmed, five years later.
1894
- England's
Manchester Ship Canal
was officially opened by
Queen Victoria
, who knighted its designer, Sir
Edward Leader Williams
, at the dedication ceremony.
1917
- During a
disastrous fire
much of Atlanta's
Fourth
Ward
was destroyed in ten hours.
1924
- University of Chicago students
Richard Loeb and Nathan Leopold, Jr.
murdered 14-year-old
Bobby Franks
in notorious a '
thrill killing
' which was later made the basis for
Alfred Hitchcock
's
1948 film
Rope
, as well as the
1992 film
Swoon
by
Tom Kalin
among others.
1927
-
Charles Lindbergh
's plane
Spirit of St. Louis
touched down at
Le Bourget Field
in Paris, having completed the world's first solo nonstop flight across the Atlantic Ocean.
1932
- Owing to bad weather
Amelia Earhart
landed in a pasture in the Ulster village of
Culmore
, near
Derry
, making her the first woman to fly solo across the Atlantic Ocean; the date of her flight was chosen purposely to emulate Lindbergh's own, five years earlier.
1941
- 950 miles off the coast of Brazil, the freighter
SS Robin Moor
became the first United States ship sunk by a German U-boat.
1945
- Screen legend
Humphrey Bogart
married up-and-coming model-actress
Lauren Bacall
.
1951
- The opening of the
Ninth Street Show
, otherwise known as the
9th Street Art Exhibition,
was a gathering of a number of notable artists, and became the stepping-out of the post war New York avant-garde, collectively know as the
New York School
.
1972
-
Michelangelo
's masterpiece sculpture
Pietà
, at
St. Peter's Basilica
in Rome, was damaged by a
vandal
named
Laszlo Toth
, who took a hammer to the exquisitely rendered marble shouting 'I am Jesus Christ!' Thanks to him, the work is now displayed behind bullet-proof glass.
1979
- During the
White Night riots
in
San Francisco
following the manslaughter conviction of
Dan White
for the assassinations of
George Moscone
and
Harvey Milk
(handed down on what would have been Milk's birthday) the city's sizable gay community
rioted
, destroying 12 police cruisers and causing significant property damage around that city's
Civic Centre
; in retaliation, police officers raided the Elephant Walk bar in the largely gay
Castro District
, destroying fixtures and assaulting patrons. Strangely enough, a grand jury was unable to lay charges against the SFPD for lack of evidence. Like, say, dozens of eyewitnesses...
1996
- The
MV

Bukoba
sank in Tanzanian waters on
Lake Victoria
, killing nearly 1000.
1998
-
Suharto
, the Indonesian dictator who had been in power for 32 years, resigned.
2004
-
Sherpa Pemba Dorjie
climbed
Mount Everest
in 8 hours 10 minutes, breaking his rival
Sherpa Lakpa Gelu
's record from the previous year.
*
share on:
facebook