The work is entitled
Auto-Portrait (Tamara in the Green Bugatti)
and is just one of the iconic works for which Tamara de Lempicka was responsible; painted in 1929 for the cover of the German magazine
Die Dame
, and acclaimed at the time as an expression of the emancipation of women, it is pointedly a self-portrait. Whereas she could have easily spent her entire life as an indolent socialite, though, her own emancipation involved making herself a career out of painting the portraits of indolent socialites, approaching it - in the time-honoured tradition of the artist - with a fervour bordering on obsession.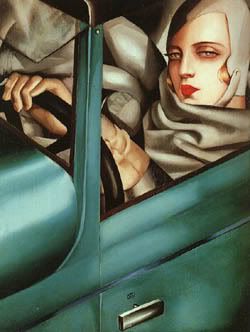 Born on this day in 1898 into a well-to-do Polish family, de Lempicka was living in Russia when the revolution struck, sweeping her first husband into jail. For weeks she combed every prison in St. Petersburg until she found him, and thereafter the reunited couple made their circuitous way to Paris - and a degree of freedom previously unavailable to her.
If in her early life de Lempicka happened to be in the wrong place at the wrong time, as she came into her own as both a woman and an artist she was soon enough in the right place at the right time; she quickly became a fixture of the city's bohemian
demi-monde
, and a portrait by her a sought-after status symbol among the swells. While ensconced in the French capital her style would become influenced by Cubism, and the pastel colours of her early work gradually crystallized into jewel tones, just as the figures she depicted became increasingly glamourous, harder, and more aloof.
Having seen World War II coming from a long way off, in the summer of 1939 she took an 'extended vacation' to the United States, remaining there - save for the occasional jaunt back to Europe - for much of the rest of her life. As styles changed and hers fell from favour, she married a wealthy aristocrat, affixed the title of Baroness to her name and tended to her reputation during that prickly time in an artist's career that comes between 'novelty' and 'dead'. Her ministrations paid off; by the early 1970s galleries began to collect her, retrospectives were launched, and she developed the cranky hauteur that the public expects of its artists.
When Tamara de Lempicka died in March 1980 she was already an icon, representing the soigne side of first wave of feminism; it took a third-wave feminist and obscure pop singer named Madonna to ensure that not only did de Lempicka's originals fetch record prices at auction, but that every poster store in the world carried at least one copy of the picture she'd painted so many years before, of a cool blonde with an enigmatic expression at the helm of an Italian sportscar, even if many of those who purchased it had no idea that the painting was of the artist herself.
*
share on:
facebook