In a day and age when Orthodox rabbis couldn't go to the movies due to the preponderance of ham they were bound to find there, few performances were as kosher as those of Henry Fonda - who was born on this day in 1905; in fact, contemporary critics initially often found fault with his low-key performances, soft voice, and the subtlety of his body language. Thanks in large part to him the movie-going public's tastes gradually began to shift, putting Fonda's star even higher in the firmament nearly thirty years after his death than it was at its apogee in the early 1940s.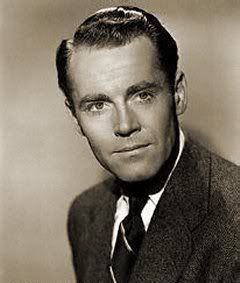 Of course, his style of naturalism didn't stop executives from pairing him with actresses so overblown they could have found work as hurricanes; a frequent costar in his early days was noted e-nun-ci-a-
tah
Bette Davis
, whose teeth marks could be found all over the scenery in films like
That Certain Woman
(1937) and
Jezebel
(1938). Though these films had assured his enduring fame, over the next five years he starred in a string of others that cemented his reputation:
The Grapes of Wrath
(1940),
The Lady Eve
(1941), and
Tales of Manhattan
(1942) are just three of the 22 acclaimed performances he made in this period, in films any actor would be glad to have on their resume.
Enlisting in the US Navy at the American entry into World War II, Fonda served on board the
USS Satterlee
as a quartermaster, during which time the ship saw action in the English Channel. He was later transferred to the Pacific theatre and as a result of his service there Fonda was later awarded a Presidential citation and a
Bronze Star
.
Whatever damage his wartime service might have done to his career, it did nothing but improve his popularity... Without missing a beat he stepped back onto the sound stages of Hollywood, and over the next three decades aged into the grand old man in films like
Mister Roberts
(1955),
12 Angry Men
(1957),
Advise and Consent
(1962),
Sex and the Single Girl
(1964), and
Yours, Mine and Ours
(1968); lending gravitas to dramas and thrillers, verisimilitude to Westerns and especially war movies, as well as a kind of exasperated charm to comedies, in any of the 106 productions in which he appeared after his screen debut in 1935 Henry Fonda was as reliable a brand to the makers of films as Panaflex or Kodak.
Fonda's last role - apparently undertaken when he knew he was dying - was in the
1981 film
On Golden Pond
, in which he costarred with
Katharine Hepburn
and his daughter
Jane Fonda
*; his performance as Norman Thayer - who faced the inevitability of his own mortality by becoming cranky - earned him an Oscar at the
54th Academy Awards
. Owing to his ill-health Fonda was
unable to attend
, and the award was accepted by his daughter Jane instead.
Henry Fonda died in August 1982.
*Whose birth had halted production during the filming of Jezebel.


*
share on:
facebook