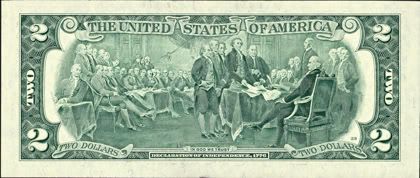 [On the reverse of the little-seen US $2 bill is a representation of the Committee of Five presenting John Hancock and the Continental Congress with their work in June 1776; an engraved modified reproduction of the painting

The Declaration of Independence

by John Trumbull, it is a picture steeped in American history and lore, and makes the $2 bill the only one to feature the images of two Presidents - namely Adams and Jefferson. Trumbull's original hangs in the Rotunda of the Capitol Building in Washington, DC.]
1429
- Not only did the start of the
Battle of Jargeau
mark the resumption of hostilities after a generation of relative peace between the French and the English during the
Hundred Years' War
, it also marked the first offensive battle in the military career of
Joan of Arc
.
1509
- England's King
Henry VIII
married
Catherine of Aragon
following the publication of a papal bull by Pope
Julius II
which allowed it; previously the bride had been married to the groom's brother
Arthur
, and following his untimely death she insisted that their marriage had never been consummated so that she could legally marry Henry.
1770
- Captain
James Cook
's vessel
Endeavour
ran aground on the
Great Barrier Reef
, causing severe damage to both the ship and the reef.
1776 - The Second Continental Congress
appointed
Thomas Jefferson
of Virginia
,
John Adams
of Massachusetts
,
Benjamin Franklin
of Pennsylvania
,
Roger Sherman
of Connecticut
, and
Robert R. Livingston
of New York to the
Committee of Five
to draft
a declaration of independence
- although the majority of the work was done by Jefferson
. It was just 17 days later when they presented their draft to Congress, as shown above.
1825
- The cornerstone was laid for Brooklyn's
Fort Hamilton
, whose purpose was to guard
the Narrows
and thus
New York Harbour
from an invasion by sea.
1837
- The
Broad Street Riot
occurred in
Boston
, fueled by ethnic tensions between English-Americans and Irish-Americans.
1892
- The
Limelight Department
, one of the world's first film studios, was officially established in Melbourne.
1898
- The
Hundred Days' Reform
was begun by China's
Guangxu Emperor
with the hope of changing social, political and educational institutions in that country; it was, however, suspended by
Empress Dowager Cixi
after 104 days. Despite its failure, the reform did later lead to the abolition of
Imperial Examination
in 1905.
1917
- King
Alexander I
assumed the throne of Greece after his father
Constantine I
abdicated under pressure by allied armies occupying Athens; the ex-King and his eldest son
Crown Prince George
were then sent into exile. The so-called
National Schism
over whether Greece should enter World War I had been a major source of conflict between Constantine and his Prime Minister
Eleftherios Venizelos
.
1936
- The
International Surrealist Exhibition
opened in London.
1955
- 77 people were killed when a car driven by
Pierre Levegh
crashed into the crowd
during the
24 Hours of Le Mans
motor race in France.
1956
- The
Gal Oya riots
- the first reported ethnic riots that targeted minority
Tamils
in the Eastern Province of Sri Lanka - reportedly killed 150 people before they were finally brought under control five days later.
1963
- Buddhist monk
Thich Quang Duc
burnt himself to death at a busy intersection in Saigon to protest the lack of religious freedom in South Vietnam
.
1964
- World War II veteran
Walter Seifert
ran amok in an elementary school in
Köln
on his 42nd birthday, killing at least eight children and two teachers and seriously injuring several more with a home-made flamethrower and a lance; following the attack, he took poison, was apprehended by the police, and died in custody the next day.
1970
-
Anna Mae Hays
and
Elizabeth P. Hoisington
officially received their ranks as US Army
Generals from Commander-in-Chief
Richard Nixon
, becoming the first females to do so.
1972
- The
Eltham Well Hall rail crash
, caused by an intoxicated train driver, killed six people and injured 126.
1987
-
Margaret Thatcher
was
elected
Prime Minister of Great Britain for a third consecutive term.
2001
-
Timothy McVeigh
was executed for his role in the
Oklahoma City bombing
.
2004
-
Ronald Reagan
's funeral was held at
Washington National Cathedral
.
*
share on:
facebook