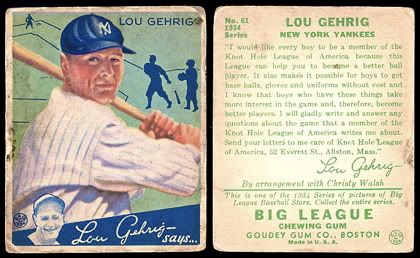 [

Lou Gehrig was still five years away from considering himself the luckiest man in baseball when millions of cards just like these found their way into millions of grubby little hands; the cause he's stumping for here, the Knot Hole League, no longer seems to exist, while its mantle has been taken up by the

Knothole Gang

(which encourages attendance at minor league games by families with preteens) and of course by the

Little League

.

]
193 CE
- Roman Emperor
Didius Julianus
was assassinated just 64 days after succeeding
Pertinax
, making him the second to serve during the
Year of the Five Emperors
. He himself was succeeded by
Septimius Severus
, and I think you can guess how that went...
1215
- Beijing - then under the control of the
Jurchen
Emperor
Xuanzong of Jin
- was captured by the
Mongols
under
Genghis Khan
, ending the
Battle of Beijing
.
1283
- Duke
Rudolph II of Austria
waived his right to the duchies of Austria and
Styria
under the terms of the
Treaty of Rheinfelden
.
1495
- Friar
John Cor
recorded the first known batch of
scotch whisky
.
1533
-
Anne Boleyn
was crowned Queen of England in a lavish ceremony at
Westminster Abbey
.
1660
- Quaker
Mary Dyer
was hanged for defying a law banning those of her faith from the
Massachusetts Bay Colony
. Because that's what Jesus would have done.
1779
- During the
American Revolutionary War
,
Benedict Arnold
was court-martialed for malfeasance. From an American perspective, however, the worst was yet to come; the event which made his name synonymous with treason - the so-called
Betrayal at West Point
- didn't occur until July 1780.
1792
-
Kentucky
became the 15th US state.
1796
-
Tennessee
became the 16th US state.
1831
-
James Clark Ross
discovered the
North Magnetic Pole
.
1868
- The
Treaty of Bosque Redondo
was signed at
Fort Sumner
, allowing the
Navajo
to return to their lands in Arizona and New Mexico.
1879
- France's Prince Imperial
Napoleon Eugene
was killed in battle during the
Anglo-Zulu War
, thwarting any hope the Bonaparte Dynasty might have had about regaining the throne once held by his father,
Napoleon III
. The only child of the king and his famous consort
Eugénie
, the young man still referred to as Napoleon IV in monarchist circles, was seemingly dogged by a death wish, having also come under fire during the
Franco-Prussian War of 1870-1871
. Still, what's an heir in exile to do? Well, he could have married
Queen Victoria
's youngest daughter,
Princess Beatrice
, or even the Spanish infanta María del Pilar, daughter of Queen
Isabella II
... Instead he enrolled in the
Royal Military Academy, Woolwich
, following which he accepted a commission into the
Royal Artillery
, and went and got his fool self blasted to bits.
1922
- The
Royal Ulster Constabulary
was founded, headquartered in Belfast.
1925
- Owing to a change in lineup by
New York Yankees
manager
Miller Huggins
,
Lou Gehrig
took to the field as a pinch hitter for
Paul 'Pee Wee' Wanninger, whereupon he proceeded to
play the first in a streak of 2,130 consecutive games; at 14 years' duration, it would be the longest such feat of endurance in professional baseball history until it was broken by
Cal Ripken Jr.
of the
Baltimore Orioles
in September 1995.
1941
-
Battle of Crete
- codenamed
Unternehmen Merkur
, or Operation Mercury - ended as Crete capitulated to Nazi Germany 12 days after the invasion by the
7th Flieger Division
began.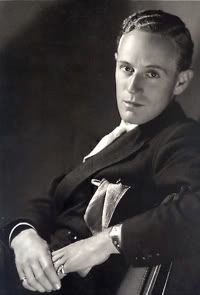 1943
-
British Overseas Airways Corporation Flight 777
was shot down over the
Bay of Biscay
by 8 German
Junkers Ju 88s
, killing all 17 passengers and crew aboard, including actor
Leslie Howard
; almost immediately the crash led to speculation that the aircraft was downed in an attempt to kill British Prime Minister
Winston Churchill
, but in fact the Luftwaffe may have actually been gunning for Howard, who was not only an effective propaganda tool and Jewish, but may have been a British spy as well. Howard's early death, while cutting his career short, seems to have preserved the films he'd already made - including such beloved cinematic spectacles as
Of Human Bondage
(1934),
The Petrified Forest
(1936), and
Gone with the Wind
(1939) - in a kind of sentimental amber.
1974
- At the so-called
Flixborough disaster
an explosion at a chemical plant in the north of England killed 28 people.
1980
- Ted Turner's
Cable News Network
began broadcasting, thus beginning both the 24-hour news cycle and the stupidification of the media continued to this day by such outlets as Fox.
2001
- During the
Dolphinarium massacre
a
Hamas
suicide bomber named Hassan Khutari killed 21 people and injured more than 100 at a youth disco in
Tel Aviv
.
*
share on:
facebook