While Diana Rigg is best known for portraying
Emma Peel
in
The Avengers
, in personal terms she assayed a far more important role in the
1981 film
The Great Muppet Caper
, playing fashion designer Lady Holiday; so impressed was I by her performance* that I decided then and there to not only seek out the roles she'd played previously but to keep my eyes open for her in future...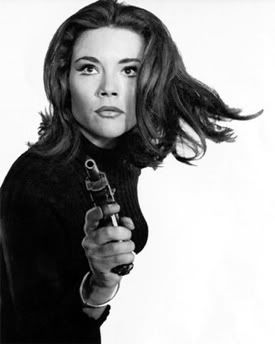 Alas, many of her earliest roles were in the theatre, and so have disappeared beyond the mists of time; one later performance, though, which thankfully was made on film was the amazing 1993
TV-movie
Genghis Cohn
, in which she portrayed Baroness Frieda von Stangel, a German aristocrat with a decidedly kinky uniform fetish. The film combined
magic realism
with
Antony Sher
** as the ghost of a Holocaust survivor come back to Earth to haunt his unpunished tormentor (played by
Robert Lindsay
) who was also the lover of Rigg's character.
Surely, though, any thrill Rigg might have had being remembered by history as
Tracy Bond
- the only Bond Girl to succeed in getting 007 out of bed and down the aisle (in the 1969
James Bond
film
On Her Majesty's Secret Service
) - would have been tempered by the fact that it was with neither
Sean Connery
or
Roger Moore
she shared her scenes but
George Lazenby
, the gap-toothed Australian one-off usurper of the role.
Speaking of bad reviews***, Rigg has always maintained a circumspect and slightly bemused attitude towards her work and the notoriety it engenders; the year after exhorting
The Muppets
to recover her priceless 'Baseball Diamond' from its pilferers, she relied on her showbiz pals to help her compile a
collection
of the worst theatrical reviews in history. Entitled
No Turn Unstoned
, it includes examples from as far back as Ancient Greece; while not well-received upon its first release, the book quickly gained the cult status it enjoys today. In it, she included a particularly ghastly notice of her own by the critic
John Simon
, regarding a nude scene she'd done with
Keith Michell
in
Abelard and Heloise
, to whit: '[Miss Rigg] is built like a brick mausoleum with insufficient flying buttresses'.
A summation, no doubt, with which the generations of teenage boys who experienced their sexual awakening watching her slinking about in a leather catsuit with
Patrick Macnee
would most vehemently not concur.
Born on this day in 1938, Diana Rigg was created a
Commander of the Order of the British Empire
(CBE) in 1988 and a
Dame Commander of the Order of the British Empire
(DBE) in 1994.
*After all, not many actors could successfully keep their dignity while being barraged by the corny jokes of a couple of dozen puppets.
**As winning a combination as there ever was.
***Not to mention extremely clunky segue-ways.

*
share on:
facebook