Far be it from the
Pop Culture Institute
to impugn the good work
Alice Pearce
did in aid of that archetype of suburban nosiness
Gladys Kravitz
during the first two seasons of the legendary sitcom
Bewitched
; while Pearce was the ideal black and white version of the character*, though, the show's transition to colour at the outset of
Season Three
demanded an actress who was also in colour, and Sandra Gould - whose vivid hair the colour of tomato soup made her the mortal counterpart to Endora - more than filled the bill.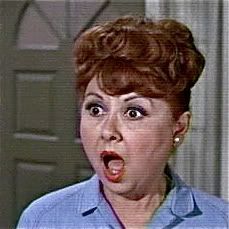 Her performances were as vivid as her hair colour, to such a degree that to this day just by shrieking 'Abner! ABNER!!' even a middling impressionist can reduce me to a giggling mass.
After
Bewitched
went off the air in 1972 Gould never lacked for work; by the time she died - on this day in 1999 - she'd also appeared in
The Brady Bunch
,
Punky Brewster
,
Friends
and
Veronica's Closet
as well as reprising her role in the short-lived 1977
Bewitched
spin-off
Tabitha
. On the big-screen, her accomplishments include an appearance in
The Ghost and Mr. Chicken
with no less a comedy legend than
Don Knotts
.
*Pearce died of ovarian cancer in 1966, during the filming of Season Two.

*
share on:
facebook