Two paragraphs into Cassandra Peterson's bio I was blown away by the abundance of information contained therein; there's too much of it, in fact, to include here. For a dozen years before her Elvira persona was born and made her famous she'd already lived an awesome life. Although she is best known as a witchy, bitchy horror host the fame it afforded her was more a reward for an interesting and varied career than a premeditated act.
Born on this day in 1951, by 1969, at the age of 17, she'd become the youngest showgirl in Las Vegas - as confirmed by the Guinness Book of World Records - when she worked at
The Dunes
. She briefly dated
Elvis Presley
, appeared in the
1971 film
Diamonds Are Forever
playing - what else? - a showgirl, and even moved to Italy to front a rock band called I Latins Ochanats. That's where she met director
Federico Fellini
who cast her in his
1972 film
Roma
; she also appeared in the 1974 film
The Working Girls
, and posed for the
cover
of
Tom Waits
'
1976 album
Small Change.
Returning Stateside she toured gay clubs with a novelty act called Mamma's Boys before joining famed LA-based comedy troupe
The Groundlings
in 1979; it was there the personality of Elvira was more or less born. At the same time she was an on-air personality at LA radio station
KROQ
.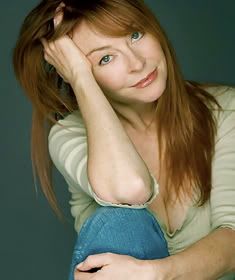 The
story of the creation
of the Elvira character resides at the eye of a veritable pop culture hurricane; while Elvira was ostensibly based on
Maila Nurmi
's Vampira (brilliantly
lampooned
paid tribute to by
Lisa Marie
in
Tim Burton
's
1994 film
Ed Wood
) Vampira was herself based on
Charles Addams
'
Morticia Addams
, although the
television version
of Morticia (played by
Carolyn Jones
from 1964-6) and the movie version (popularized by
Anjelica Huston
) both imbued her with Nurmi's sexiness which was not present in the original
Addams Family
cartoons as they appeared in
The New Yorker
*.
Elvira was clearly an idea whose time had come; not only had punk given way to goth as the principal costume of disaffected teenagers, but the exploitation movies of the previous three decades were then being embraced ironically by jaded Baby Boomers and the up-and-coming cynics of Generation X alike. Elvira presided over all of it with a campy quip and a killer cleavage, having shot to almost instant fame simply by being at the right place at the right time. Her persona, though, had at least one unintended benefit; owing to the heavy makeup and wig she wore, at the height of the ensuing craziness Peterson was able to go out in public as herself without being bothered in the least!
*No one's quite sure what Daryl Hannah was getting at when she played Morticia in the 1998 film
Addams Family Reunion
, although Ellie Harvie did better with the character on TV in
The New Addams Family
. But I digress...

*
share on:
facebook