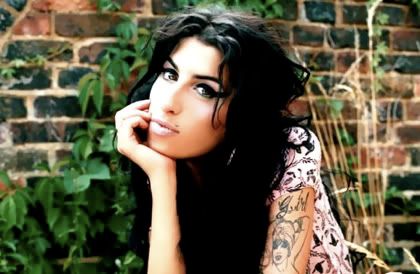 Street cred is all well and good, but I have to shake my head in wonder at people whose first five instincts aren't self-preservation; the troubled singer about whom I've spent at least two of the last three years fretting isn't some trailer park pop tart but rather soul survivor Amy Winehouse, who today has officially made it through another year - although it's still too touch and go for my liking. When your drug use gives you emphysema, that's officially rock bottom; hopefully it means our girl has nowhere left to go but up.
Two years ago she didn't even attend her own birthday party; according to published reports* she stayed home and sulked because the drinking and drugs have left her looking too rough to go out in public. As indeed they have. Once again, the solution seems too obvious to mention.
I say this as a fan, Amy Winehouse: I some day want to be toasting your twentieth album, not wistfully playing your first two - 2003's
Frank
and 2006's
Back to Black
- over and over while wondering what might have been. Do I make myself clear?
*And unlike blogs, the newspapers

never make mistakes.


*



share on:
facebook