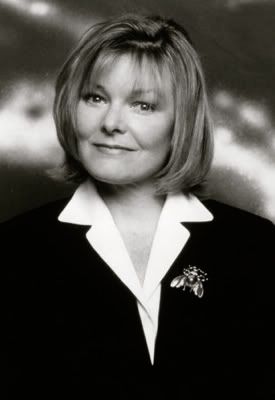 She was the only member of the
Not Ready For Prime Time Players
who showed up for work at
30 Rockefeller Plaza
every week, did her job, and didn't fall into the trap of parties and debauchery baited with shallow praise and sudden fame that ultimately claimed one of her fellow cast-members and threatened to swallow the rest at one time or another; conversely, Jane Curtin is one of the only alumni of
Saturday Night Live
who refuses to be involved in the industry of nostalgia that's sprung up around the show. (Aside, of course, from her involvement in
The Coneheads
movie
; then again, we all make mistakes.) She was notable in her absence from the entirely superlative
25th Anniversary
special of
SNL
, released in 2000 - although she appeared fleetingly in clips from the show's first five season's her name was never mentioned.
For her follow-up Curtin was rewarded with a fine hit instead of a sophomore slump;
Kate & Allie
was a landmark
sitcom
for its portrayal of Baby Boomers nursing their wounds together following their Eighties divorces from feckless men inured in their respective mid-life crises. Some years later she finally got the chance to let her hair down, more or less playing against type (to hilarious end) in
3rd Rock from the Sun
. So esteemed is Jane Curtin around the
Pop Culture Institute
that the mere rumour she was set to appear in a pilot - which alas, came to naught - sent us into a tizzy in
March 2007
; try as we might, if another such rumour was to circulate I promise our reaction would be identical.
*
share on:
facebook