I first read the work of
Michelangelo Signorile
way back in the day - back when gay press outlets like
The Advocate
were still relevant to the lives of most gay men outside of Chelsea and West Hollywood, which should give you some idea how long ago that was*. Of course, back then the gay community still existed largely in the shadows, and the cultural workers who toiled there did so in what looked like it would always be a niche market. Few could have foreseen how mainstream both the gay community and one of its mouthiest members would become, let alone how quickly...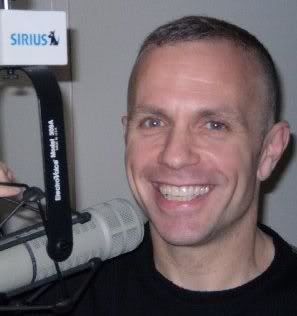 The oppressive backlash gay men encountered due to AIDS then - like the ongoing demonization by evangelical Christians over our uppity insistence on equal rights today - has brought about unprecedented recognition and even political leverage to the gay community, for which we** owe bigots as far back as Anita Bryant and as current as Rick Warren our eternal gratitude. The same phenomenon also catapulted Signorile from his cozy corner as a scribbler on queer social issues to one of the foremost opinion-makers of our times, and all because of an encounter he had in 1988 with a particularly vile bigot named
Joseph Ratzinger
.
Currently host of
The Michelangelo Signorile Show
, on
Sirius Satellite Radio
's
OutQ
channel, he's also the author of four books, all of which arose from his work as a columnist for both
The Advocate
and
Out Magazine
. From the hot-button issue of outing, which was the first to give him national exposure as a major contributor to
OutWeek
, to the struggles experienced by gays in the military and even the casual homophobia we as gay men encounter daily, Signorile can be counted on to have his own take on any issue, and a deliciously liberal one as well. No doubt as he gets older, which he does by one year today, he'll have something to say about that and much more besides.
*Like, the early Nineties...
**And by 'we' I mean groups like
ACT UP
and
Queer Nation
(which Signorile co-founded) as well.

*
share on:
facebook