While you wouldn't exactly call him an oil painting - unless it's one by
Lucian Freud
- Charles Laughton still managed a distinguished career before the public as an actor on stage, in films, as well as on radio and television; the reason for this grievous lapse - allowing an uggo free run amongst the pretty people - was clearly his staggering talent...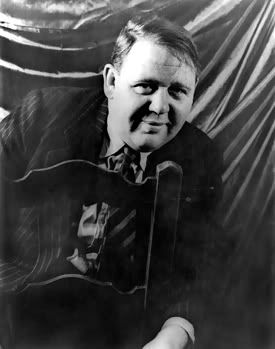 Born in July 1899, during military service with the
Northamptonshire Regiment
in World War I he was gassed; originally expected to take over his family's hotel business, he began appearing in amateur theatricals in his home town of
Scarborough
, and in 1925 he was accepted at the prestigious
Royal Academy of Dramatic Art
in London.
Laughton's first professional stage appearance came in April 1926 at the
Barnes Theatre
, playing Osip in the comedy
The Government Inspector
, which later transferred to the
Gaiety Theatre
; his first film appearances came in 1928. He took his acting skills across the Atlantic in 1931, at which time he made his American debut on Broadway at the Lyceum Theatre in a stage adaptation of
C.S. Forester
's
novel
Payment Deferred
. His Hollywood film debut was in 1932's
The Old Dark House
, opposite another looker,
Boris Karloff
.
Laughton's enthusiasm for America was matched only by that which he held for men; despite his predilection, he had a long and happy - albeit complicated - marriage to
Elsa Lanchester
. The Hollywood films for which he was best known - amongst dozens - are
The Private Life of Henry VIII
(in which he played
Henry VIII
),
The Barretts of Wimpole Street
(playing Elizabeth Barrett Browning's domineering father,
Edward Moulton-Barrett
),
Les Misérables
(as Javert),
Mutiny on the Bounty
(as
Captain Bligh
),
Ruggles of Red Gap
, and
The Hunchback of Notre Dame
(as
Quasimodo
). He also had a go at directing; the result was the
Robert Mitchum
classic,
The Night of the Hunter
, in 1955.
Charles Laughton died on this day in 1962, having made
Otto Preminger
's
Advise and Consent
while terminally ill with bone cancer; he was interred in the Court of Remembrance courtyard, at
Forest Lawn - Hollywood Hills Cemetery
in Los Angeles. His widow survived him until December 1986.
*
share on:
facebook