I've written a considerable amount regarding the
Kingdom of Hawai'i
as part of my passive-aggressive agenda towards the US government; too few people know the real story of the colonial era in general, let alone that the United States invaded and has occupied a
sovereign nation
since the 1890s, despite being founded itself on such high-flown ideals as independence from colonial rule.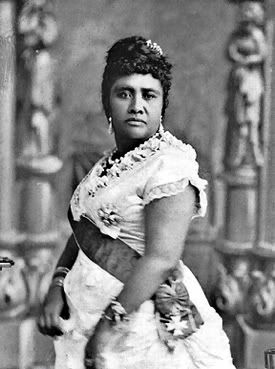 On this day in 1891 the last queen of Hawaii came to power, and for attempting to defend her people and the sovereignty of her nation - which, after all, ought to have been her job - she managed to bring the whole thing crashing down around her...
Following the death of her brother and predecessor
Kalakaua
, Liliuokalani came to power intent on abrogating the
Bayonet Constitution
, imposed on the island kingdom by American
Lorrin A. Thurston
and enforced by the
Honolulu Rifles
- a paramilitary organization backed by the country's Reform Party, who literally pointed their guns at the King as he signed it. Her second act was to protect her country's revenue from the
McKinley Tariff
, which had been imposed upon sugar exports and severely restricted revenues for the people who grew it.
So swift was her fall from power that she never even made it to the second anniversary of her accession; 1 year and 354 days after becoming queen she was deposed, and the
overthrow of the Hawaiian Kingdom
was complete. As a closing salvo, though, she issued the following statement:
I Liliuokalani, by the Grace of God and under the Constitution of the Hawaiian Kingdom, Queen, do hereby solemnly protest against any and all acts done against myself and the Constitutional Government of the Hawaiian Kingdom by certain persons claiming to have established a Provisional Government of and for this Kingdom. 'That I yield to the superior force of the United States of America whose Minister Plenipotentiary, His Excellency John L. Stevens, has caused United States troops to be landed a Honolulu and declared that he would support the Provisional Government.' Now to avoid any collision of armed forces, and perhaps the loss of life, I do this under protest and impelled by said force yield my authority until such time as the Government of the United States shall, upon facts being presented to it, undo the action of its representatives and reinstate me in the authority which I claim as the Constitutional Sovereign of the Hawaiian Islands.
Alas, her faith in the world's superpowers - especially in their dealings with pivotal but poor colonies - was misplaced; on January 14th, 1893, a
Committee of Safety
was formed. Two days later the US government's
John L. Stevens
ordered two companies of Marines from the
USS

Boston
deployed to guard such pivotal locations in Honolulu as the US Legation, Consulate, and Arion Hall. The following day, Liliuokalani was deposed, and Hawaii was a
sovereign nation
no more...
*
share on:
facebook