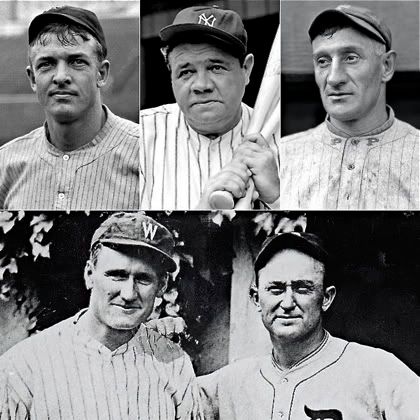 [

The first players voted into the Baseball Hall of Fame were (clockwise from top left) Christy Mathewson, Babe Ruth, Honus Wagner, Ty Cobb, and Walter Johnson; they weren't formally inducted, however, until the museum - located in Cooperstown, New York - was dedicated in June 1939.

]
904 CE
-
Sergius III
came out of retirement to take over the papacy from the deposed antipope
Christopher
; he'd first been elected following the death of Pope
Leo V
the previous September.
1119
- Pope
Gelasius II
died, just five days after the first anniversary of his enthronement; he was succeeded by
Callixtus II
just days later, on February 1st.
1676
-
Feodor III
became Tsar of Russia following the death of his father,
Alexis I
.
1814
- Forces of the
French Empire
commanded by Napoleon himself defeated those of Russia and Prussia under Generalfeldmarschall
Prince von Blücher
at the
Battle of Brienne
.
1820
- Britain's King
George III
died at Windsor Castle; he was succeeded by his son,
George IV
, who'd been acting as Regent since 1811.
1856
- Britain's
Queen Victoria
created the
Victoria Cross
to recognize 'valour in the face of the enemy' during the
Crimean War
, backdating eligibility for the honour to 1854. The first medals were handed out in
June 1857
by the Queen herself at a ceremony in Hyde Park, at which the first recipient was
Charles Davis Lucas
, whose medal is currently on display at the
National Maritime Museum
in Greenwich.
1861
-
Kansas
became the 34th US state.
1863
- At the
Bear River Massacre
in
Washington Territory
(in present-day
Franklin County, Idaho
, near
Preston
) a US Army platoon commanded by Colonel
Patrick Edward Connor
slaughtered between 200-400 of the area's
Shoshone
people - including their chief,
Bear Hunter
- as part of the ongoing
Bear River Expedition
.
1891
-
Liliuokalani
was proclaimed Queen of Hawai'i; she would be the last sovereign to rule that country before it was forcibly annexed by the United States.
1916
- Paris was
bombarded
by German zeppelins for the second and last time during World War I; 54 people were killed.
1936
- The first
inductees
into the
Baseball Hall of Fame
at
Cooperstown, New York
, were named:
Ty Cobb
,
Walter Johnson
,
Christy Mathewson
,
Babe Ruth
, and
Honus Wagner
.
1940
- Three trains on Osaka's
Sakurajima Line
crashed and exploded while approaching
Ajikawaguchi
station, killing 181 people.
1944
-
Bologna
's
Anatomical Theatre of the Archiginnasio
was destroyed during an air-raid.
1959
-
Walt Disney
released
Sleeping Beauty
, the 16th and final film he would release before his death, and the last fairytale his studio would make until 1989's
The Little Mermaid
. It was also the last animated film the company made using hand-inked cels; beginning with
One Hundred and One Dalmatians
the studio incorporated
xerography
into its animation process.
1963
- The first
inductees
into the
Pro Football Hall of Fame
at
Canton, Ohio
, were named; the so-called 'charter inductees' are
Sammy Baugh
,
Bert Bell
,
Earl 'Dutch' Clark
,
Harold 'Red' Grange
,
George Halas
,
Mel Hein
,
Wilbur 'Pete' Henry
,
Robert 'Cal' Hubbard
,
Don Hutson
,
Earl 'Curly' Lambeau
,
Tim Mara
,
George Preston Marshall
,
John 'Blood' McNally
,
Bronko Nagurski
,
Ernie Nevers
, and
Jim Thorpe
.
1979
-
Brenda Spencer
killed two people and wounded eight at the Grover Cleveland Elementary School shootings.
1996
-
Teatro la Fenice
, an historic opera house in Venice, was destroyed by fire - again;
La Fenice
means 'the Phoenix' in Italian, referring to previous fires in 1774 and 1836. The event and its aftermath are thrillingly recounted in
John Berendt
's
2005 book
The City of Falling Angels.
After five years of legal wrangling, it took just 650 days and €90 million for the third
Fenice
to rise from the ashes; the theater reopened in December 2003.
1998
- A bomb exploded at an abortion clinic in Birmingham, Alabama, killing part-time security guard Robert Sanderson and severely wounding nurse
Emily Lyons
in the process; serial bomber
Eric Robert Rudolph
- who most famously committed the
Centennial Olympic Park bombing
at Atlanta's
1996 Summer Olympics
in
July 1996
- later confessed to the crime.
2002
- In his
State of the Union Address
, US President George W. Bush described 'regimes that sponsor terror' as an
Axis of Evil
, in which he included Iraq, Iran and North Korea.
*
share on:
facebook