For his intellectual demeanor, eloquent oratory, and promotion of liberal causes Adlai Stevenson II was twice the
Democratic Party
's nominee for President, in
1952
and
1956
; he tried for a third time in
1960
, but was thwarted by the eventual winner,
John F. Kennedy
. While his grandfather,
Adlai E. Stevenson I
, was Vice President under
Grover Cleveland
from 1893-1897, attaining the Executive Branch proved problematic to the second man to bear that name - who, since he was intellectual, eloquent, and liberal was seemingly no match for the avuncular Republican war hero
Dwight D. Eisenhower
.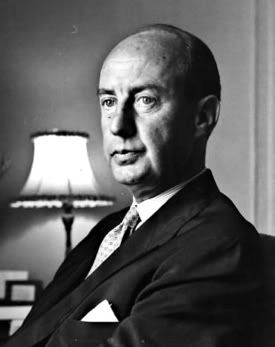 Born on this day in 1900, Stevenson belonged to a well-connected political family in Illinois; his father
Lewis Green Stevenson
never held an elected office, but did serve as
Secretary of State of Illinois
and was a contender for the Democratic vice-presidential nomination in
1928
- an honour eventually awarded to
Joseph Taylor Robinson
, who was chosen as
Al Smith
's running mate*. Also, Stevenson's maternal great-grandfather (and, according to him, his 'favourite ancestor') was
Jesse Fell
, who'd been a close friend and campaign manager for
Abraham Lincoln
.
Despite having such bad luck with the presidency, Stevenson did manage to be elected governor of Illinois in 1948, in an upset victory over
Dwight H. Green
; the following year his wife, Ellen Borden, handed him another kind of upset by divorcing him after twenty-one years of marriage. The couple had three sons.
Considered by some to be a natural for Kennedy's Secretary of State, that job went instead to
Dean Rusk
, while Stevenson was made US Ambassador to the United Nations. He was still serving in that position under Kennedy's successor
Lyndon Johnson
when, in July 1965, while walking with
Marietta Tree
through London's
Grosvenor Square
, Stevenson suffered a heart attack. He died later that day at
St George's Hospital
.
The eldest of his sons,
Adlai E. Stevenson III
, would not only go into the family business by serving as a Senator from Illinois (1970-81), he would also continue another family tradition, by naming his son
Adlai Stevenson IV
- who himself has been both a television reporter and a business executive in Chicago and used to refer to himself as 'Adlai Stevenson the Last' - while his son Adlai Stevenson V, born in 1994, is still in high school. Usually the polite thing to say in these circumstances is 'there'll never be another Adlai Stevenson', but given the past I'd say there's a pretty good chance there will be!
*Smith and Robinson lost the election to
Herbert Hoover
and
Charles Curtis
444 electoral votes to 87.
*
share on:
facebook